Country profile Burundi 2016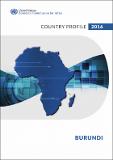 Published
2017-03
Author(s)/Corporate Author (s)
United Nations. Economic Commission for Africa;

Abstract
The Burundian economy has been affected by political tensions which have had an impact on the country since April 2015, although the precise scale of this impact is still difficult to measure. The GDP growth rate declined by −3.9 per cent in 2015 and the recession appeared to continue in 2016. Between 2005 and 2014, a stable growth rate of about 4.5 per cent, although lower than the regional average, had allowed Burundi to start achieving good results in macroeconomic policy and the fight against poverty. Structural reforms had been launched for this purpose. They were part of the strategic development program "Vision 2025". Although "Vision 2025" is still the strategic document for action by the Government, the achievement of its goals seems to be severely compromised by the current sociopolitical crisis. In its thematic segment, the present publication looks at the need to improve the productivity of the agricultural sector to achieve the structural transformation of the Burundian economy, an effort which involves both the modernization of subsistence farming to achieve food self-sufficiency and the diversification of export crops and agribusiness, while at the same time dealing with the problem of land and demographic pressure on the land and environmental risks.
Citation
"United Nations. Economic Commission for Africa (2017-03). Country profile Burundi 2016. Addis Ababa:. © UN. ECA,. "
Related items
Showing items related by title, author, creator and subject.
Informality and inequality in Africa: exploring the linkages

United Nations. Economic and Social Council; United Nations. Economic Commission for Africa

"United Nations. Economic and Social Council; United Nations. Economic Commission for Africa (2017-09). Informality and inequality in Africa: exploring the linkages. UN. ECA Committee on Gender and Social Development(2nd session:2017, Oct. 11 - 12: Addis Ababa, Ethiopia). Addis Ababa. © UN. ECA. "

Objectifs stratégiques pour le développement socio-économique de l'Afrique dans les années 90

Nations Unies. Commission Economique pour l'Afrique; Nations Unies. Conseil Economique et Social

"Nations Unies. Commission Economique pour l'Afrique; Nations Unies. Conseil Economique et Social (1993-02). Objectifs stratégiques pour le développement socio-économique de l'Afrique dans les années 90. NU. CEA Réunion du Comité Technique Préparatoire Plénier (14ème : 1993, avr. 26 - 30 Addis Abeba, Ethiopie).; NU. CEA Conférence des ministres (19ème : 1993, mai 03 - 06 : Addis Abeba, Ethiopie).; NU. CEA Réunion de la conférence des ministres (20ème session de la commission : 1993, mai 03 - 06 : Addis Abeba, Ethiopie). Addis Abeba :. © NU. CEA,. http://hdl.handle.net/10855/6254"