Policy brief: economic partnership agreements and the African continental free trade area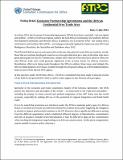 Published
2016-07
Author(s)/Corporate Author (s)
United Nations. Economic Commission for Africa. Regional Integration and Trade Division. African Trade Policy Center;
United Nations. Economic Commission for Africa;

Abstract
The 2015 Economic Report on Africa by the United Nations Economic Commission for Africa (ECA) shows that deepening African economic integration in the context of the proposed Continental Free Trade Area (CFTA) prior to the full implementation of the Economic Partnership Agreements (EPAs) could offset the negative effects of those agreements on intra-African trade. However, this implies that the transition periods provided for under the EPAs are used to fast-track the regional integration of agenda of the African countries. Studies show that the EPAs may have adverse effects on intra-African trade and could generate significant trade revenue losses for African countries. Nonetheless, efforts are being made throughout the EPAs to address these issues and mitigate the effects of liberalization of revenues, notably through the proposed setting up of EPA implementation funds in most of the African EPA regions.
Citation
"United Nations. Economic Commission for Africa. Regional Integration and Trade Division. African Trade Policy Center; United Nations. Economic Commission for Africa (2016-07). Policy brief: economic partnership agreements and the African continental free trade area. Addis Ababa:. © UN. ECA,. "
Related items
Showing items related by title, author, creator and subject.