The use of geographic information system in national statistical offices for data collection and poverty mapping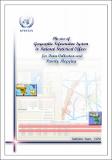 Published
2005
Author(s)/Corporate Author (s)
United Nations. Economic Commission for Africa;

Abstract
The use of Geographic Information Systems (GIS) through Spatial representation and analysis of poverty indicators is an important tool aimed at helping identify "where the poor are", explain the interrelationships among the influencing factors, and to know '"why they are poor". This spatial representation, known as poverty mapping, is critical for pinpointing the high poverty incidences. Previous ECA studies of the use of Geographic Information Systems in African countries have underlined the insufficient knowledge of this new tool by National Statistics Offices (NSOs), policy makers and the private sector. The present study will give an update of the use of GIS in NSOs with an emphasis on poverty mapping.
Citation
"United Nations. Economic Commission for Africa (2005). The use of geographic information system in national statistical offices for data collection and poverty mapping. Addis Ababa:. © UN. ECA,. "
Related items
Showing items related by title, author, creator and subject.