African statistics pocketbook = Livre de poche statistiques sur l'Afrique 2012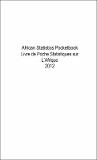 Published
2012
Author(s)/Corporate Author (s)
United Nations. Economic Commission for Africa;
Nations Unies. Commission Economique pour l'Afrique;

Abstract
The 2012 ECA Statistics Pocketbook is the second volume in the series. It presents statistical trends for African countries on key indicators in the major areas of demographic statistics, social and environment statistics and economic statistics. The data in the economic statistics data have been grouped under national accounts, production, external sector, money and finance, and government statistics. The data for the pocketbook series are drawn from the annual African Statistical Yearbook produced jointly by ECA, the African Development Bank (AfDB) and the African Union Commission (AUC). Which presents recent time series on African countries in various areas of statistics. This issue covers the years 2000, 2005, 2008, 2009, 2010 and 2011. However, latest data values have been included where revised or updated data became available after the publication of the yearbook.
Citation
"United Nations. Economic Commission for Africa; Nations Unies. Commission Economique pour l'Afrique (2012). African statistics pocketbook = Livre de poche statistiques sur l'Afrique 2012. Addis Ababa:. © UN. ECA,. "
Related items
Showing items related by title, author, creator and subject.
Rapport sur le programme Africain de recensements

Nations Unies. Commission Economique pour l'Afrique; Nations Unies. Conseil Economique et Social

"Nations Unies. Commission Economique pour l'Afrique; Nations Unies. Conseil Economique et Social (1975-09). Rapport sur le programme Africain de recensements. NU. CEA Confèrence des Statisticiens Africains (9ème : 1975, Oct. 6-15 : Lome, Togo). Addis Ababa :. © UN. ECA,. http://hdl.handle.net/10855/16384"

A proposal on task forces by the CASD secretariat

United Nations. Economic and Social Council; United Nations. Economic Commission for Africa

"United Nations. Economic and Social Council; United Nations. Economic Commission for Africa (1997-03). A proposal on task forces by the CASD secretariat. UN. ECA Meeting of the Coordinating Committee on African Stastical Development (CASD) (7th : 1997, May 21 - 22 : Addis Ababa, Ethiopia). Addis Ababa :. © UN. ECA,. http://hdl.handle.net/10855/13533"