Linking African peer review mechanism (APRM)'s national plan of actions (NPoAs) and other existing national development strategies: training manual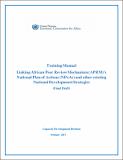 Published
2017-02
Author(s)/Corporate Author (s)
United Nations. Economic Commission for Africa. Capacity Development Division;

Abstract
African Peer Review Mechanism was formulated to foster the adoption of policies, standards and practices that lead to political stability, high economic growth, sustainable development and accelerated sub-regional and continental economic integration. The approach adopted to achieve this objective is sharing of country experiences and reinforcement of successful best practice methods, which includes the identifying of deficiencies and assessing the needs for capacity building. The purpose of this Training Manual is to assist those who are involved in the African Peer Review Mechanism (APRM) process to link the APRM National Program of Actions (NPoA) and other existing national development strategies. Examples of the other national development strategies which are being implemented in Africa are the Poverty Reduction Strategy Papers (PRSPs) and the National Development Plans (NDPs). Thus, its design, is helpful in enhancing capacity of national experts and stakeholders in the APRM process and also boosting on-line training program to complement the UNECA-organized national and regional workshops.
Citation
"United Nations. Economic Commission for Africa. Capacity Development Division (2017-02). Linking African peer review mechanism (APRM)'s national plan of actions (NPoAs) and other existing national development strategies: training manual. Addis Ababa. © UN. ECA. "
Collections
Related items
Showing items related by title, author, creator and subject.
Forum régional africain pour le développement durable de 2016: rapport intérimaire: réalisations, principaux produits et perspectives d'avenir

Nations Unies. Commission Economique pour l'Afrique; Commission de l'Union Africaine; Nations Unies. Conseil Economique et Social; Nations Unies. Commission Economique pour l'Afrique; Commission de l'Union Africaine; Nations Unies. Conseil Economique et Social

"Nations Unies. Commission Economique pour l'Afrique; Commission de l'Union Africaine; Nations Unies. Conseil Economique et Social; Nations Unies. Commission Economique pour l'Afrique; Commission de l'Union Africaine; Nations Unies. Conseil Economique et Social (2017-02). Forum régional africain pour le développement durable de 2016: rapport intérimaire: réalisations, principaux produits et perspectives d'avenir. Addis Abeba:. © NU. CEA,. "

Examen de la structure intergouvernementale de la Commission économique pour l'Afrique en application de la résolution 943 (XLIX) : note du secrétariat

Nations Unies. Commission Economique pour l'Afrique; Commission de l'Union Africaine; Nations Unies. Conseil Economique et Social; Nations Unies. Commission Economique pour l'Afrique; Commission de l'Union Africaine; Nations Unies. Conseil Economique et Social

"Nations Unies. Commission Economique pour l'Afrique; Commission de l'Union Africaine; Nations Unies. Conseil Economique et Social; Nations Unies. Commission Economique pour l'Afrique; Commission de l'Union Africaine; Nations Unies. Conseil Economique et Social (2017-02). Examen de la structure intergouvernementale de la Commission économique pour l'Afrique en application de la résolution 943 (XLIX) : note du secrétariat. NU. CEA Comité d'experts (36ème:2017, 23 - 25 mar.:Dakar, Senegal); UA Comité d'experts (3éme: 2017, 23 - 25 mar.: Dakar, Senegal); NU. CEA conjointe du Comité technique spécialisé de l'Union africaine sur les finances, les affaires monétaires, la planification économique et l'intégration et de la Conférence des ministres africains des finances, de la planification et du développement économique de la Commission économique pour l'Afrique Réunion(10éme:2017, 23 - 25 mar.:Dakar, Senegal). Addis Abeba:. © NU. CEA,. "

Rapport sur l'appui du système des Nations unies à l'Union africaine et au nouveau partenariat pour le développement de l'Afrique

Nations Unies. Commission Economique pour l'Afrique; Commission de l'Union Africaine; Nations Unies. Conseil Economique et Social; Nations Unies. Commission Economique pour l'Afrique; Commission de l'Union Africaine; Nations Unies. Conseil Economique et Social

"Nations Unies. Commission Economique pour l'Afrique; Commission de l'Union Africaine; Nations Unies. Conseil Economique et Social; Nations Unies. Commission Economique pour l'Afrique; Commission de l'Union Africaine; Nations Unies. Conseil Economique et Social (2017-02). Rapport sur l'appui du système des Nations unies à l'Union africaine et au nouveau partenariat pour le développement de l'Afrique. UA Comité d'experts (3éme: 2017, 23 - 25 mar.: Dakar, Senegal); NU. CEA Comité d'experts(36ème: 2017, 23 - 25 mar.: Dakar, Senegal); NU. CEA conjointe du Comité technique spécialisé de l'Union africaine sur les finances, les affaires monétaires, la planification économique et l'intégration et de la Conférence des ministres africains des finances, de la planification et du développement économique de la Commission économique pour l'Afrique Réunion(10éme: 2017, 23 - 25 mar.: Dakar, Senegal). Addis Abeba:. © NU. CEA,. "