Regional assessment of agricultural production, climate change, agricultural trade and food security inception workshop report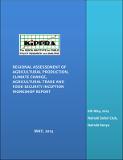 Published
2014-05
Author(s)/Corporate Author (s)
United Nations. Economic Commission for Africa;

Abstract
The linkage between climate change, trade and food security is important in achieving development at both national and regional level in cases where neighboring countries have a strong integration framework as is the case with the East Africa Community (EAC).The objectives of the study includes to; Establish the regional and national agricultural and trade policies within EAC region.;Establish the agricultural commodities trade patter ns at the regional and national level within the EAC;Establish the impact climate change on agricultural commodity trade patterns and food security with in EAC using Computable General Equilibrium (CGE) and micro simulation models; Provide policy recommendations.
Citation
"United Nations. Economic Commission for Africa (2014-05). Regional assessment of agricultural production, climate change, agricultural trade and food security inception workshop report. Addis Ababa. © UN. ECA. "
Related items
Showing items related by title, author, creator and subject.