Round Table III–The business of agriculture: creating successful agribusiness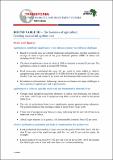 Published
2018
Author(s)/Corporate Author (s)
United Nations. Economic Commission for Africa;

Abstract
Agribusiness contributes significantly to the African economy but still faces challenges. Based on available data, agricultural production and agribusiness together constitute an average of about 45 per cent of the gross domestic product (GDP) of Africa (not including North Africa). The share of agribusiness alone in Africa's GDP is estimated at around 20 percent. The agribusiness sector is valued at around $313 billion. Food processing contributed the most (62 percent) in value added to Africa's agro processing sector over the period 2014-2016, followed by garments (25 per cent), textiles (7 per cent) and leather (6 per cent); and this dominance has increased over time. Investment in infrastructure, technology and access to finance are major challenges to the expansion of agribusiness and its productivity.
Citation
"United Nations. Economic Commission for Africa (2018). Round Table III–The business of agriculture: creating successful agribusiness. Addis Ababa. © UN. ECA. "
Related items
Showing items related by title, author, creator and subject.