Country profile Rwanda 2015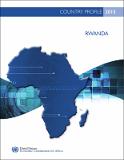 Published
2016-03
Author(s)/Corporate Author (s)
Mold, Andrew;
United Nations.Economic Commission for Africa.Eastern Africa Subregional Development Centre(SRDC-EA);

Abstract
The Rwandan economy has performed extremely well over the last 15 years. Since 2000, the average rate of growth has been nearly 8.0 per cent per annum. The country is now reaching a different stage in its development trajectory, and a new set of challenges needs to be addressed. The growth process has yet to be accompanied by sufficient structural change, and although the economy has responded strongly to the new economic opportunities, investment has been principally led by the public sector. In contrast, the private sector remains relatively weak. There are a number of other important social and economic challenges constraining growth: the energy sector is proving to be a major bottleneck to growth; the agricultural sector's performance is respectable, but far from reaching the Government's target of 8 per cent growth per annum; the private sector is constrained by the lack of suitable infrastructure; government finances are still highly dependent on foreign aid, and the large current account imbalance acts as a brake on attaining a faster pace of growth.
Citation
"Mold, Andrew; United Nations.Economic Commission for Africa.Eastern Africa Subregional Development Centre(SRDC-EA) (2016-03). Country profile Rwanda 2015. Addis Ababa:. © UN. ECA,. "
Related items
Showing items related by title, author, creator and subject.
Informality and inequality in Africa: exploring the linkages

United Nations. Economic and Social Council; United Nations. Economic Commission for Africa

"United Nations. Economic and Social Council; United Nations. Economic Commission for Africa (2017-09). Informality and inequality in Africa: exploring the linkages. UN. ECA Committee on Gender and Social Development(2nd session:2017, Oct. 11 - 12: Addis Ababa, Ethiopia). Addis Ababa. © UN. ECA. "

Objectifs stratégiques pour le développement socio-économique de l'Afrique dans les années 90

Nations Unies. Commission Economique pour l'Afrique; Nations Unies. Conseil Economique et Social

"Nations Unies. Commission Economique pour l'Afrique; Nations Unies. Conseil Economique et Social (1993-02). Objectifs stratégiques pour le développement socio-économique de l'Afrique dans les années 90. NU. CEA Réunion du Comité Technique Préparatoire Plénier (14ème : 1993, avr. 26 - 30 Addis Abeba, Ethiopie).; NU. CEA Conférence des ministres (19ème : 1993, mai 03 - 06 : Addis Abeba, Ethiopie).; NU. CEA Réunion de la conférence des ministres (20ème session de la commission : 1993, mai 03 - 06 : Addis Abeba, Ethiopie). Addis Abeba :. © NU. CEA,. http://hdl.handle.net/10855/6254"