Improving mortality statistics in Africa – technical strategy 2015 – 2020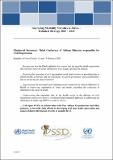 Published
2015-02
Author(s)/Corporate Author (s)
United Nations. Economic Commission for Africa;

Abstract
Mortality and cause of death statistics are primary requirements for the management of national health programs, including defining immediate interventions for disease outbreaks and epidemics. In most African countries, mortality statistics systems are weak, often characterized by fragmented and uncoordinated collections from multiple sources. As a result, African countries lack continuous, permanent and universal sources of mortality data.
Citation
"United Nations. Economic Commission for Africa (2015-02). Improving mortality statistics in Africa – technical strategy 2015 – 2020. Addis Ababa. © UN.ECA. "
Collections
Related items
Showing items related by title, author, creator and subject.
Profil de pays Sao Tomé-et-Principe 2017

Nations Unies. Commission Economique pour l'Afrique; Nations Unies. Commission Economique pour l'Afrique

"Nations Unies. Commission Economique pour l'Afrique; Nations Unies. Commission Economique pour l'Afrique (2018-03). Profil de pays Sao Tomé-et-Principe 2017. Addis Abeba. © NU. CEA. "

Profil de pays République démocratique du Congo 2017

Nations Unies. Commission Economique pour l'Afrique; Nations Unies. Commission Economique pour l'Afrique

"Nations Unies. Commission Economique pour l'Afrique; Nations Unies. Commission Economique pour l'Afrique (2018-03). Profil de pays République démocratique du Congo 2017. Addis Abeba. © NU. CEA. "