Agriculutral water management in the context of climate change in Africa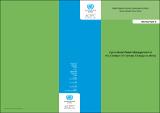 Published
2011-11
Author(s)/Corporate Author (s)
United nations Economic Commission for Africa. African Climate Policy Centre;
United Nations. Economic Commission for Africa.;

Abstract
The paper focuses on ecosystems rather than commodities; on underlying processes (both biophysical and socio-economical) than simple relationships; and on managing the effects of interactions between various elements of the production systems. It aims to decrease unproductive water losses from a system, as well as increase the adaptive capacity of communities and institutions.
Citation
"United nations Economic Commission for Africa. African Climate Policy Centre; United Nations. Economic Commission for Africa. (2011-11). Agriculutral water management in the context of climate change in Africa. ACPC working paper;; .9. .9, 32 p.:. Addis Ababa :. © UN.ECA,. https://hdl.handle.net/10855/21089"
Serial Title
ACPC working paper; .9
Related items
Showing items related by title, author, creator and subject.
Report of the thirty-sixth session of the Intergovernmental Committee of Senior Officials and Experts for North Africa

United Nations. Economic Commission for Africa; United Nations. Economic Commission for Africa. Sub regional office for North Africa; United Nations. Economic Commission for Africa; United Nations. Economic Commission for Africa. Sub regional office for North Africa

"United Nations. Economic Commission for Africa; United Nations. Economic Commission for Africa. Sub regional office for North Africa; United Nations. Economic Commission for Africa; United Nations. Economic Commission for Africa. Sub regional office for North Africa (2021-12). Report of the thirty-sixth session of the Intergovernmental Committee of Senior Officials and Experts for North Africa. UN. ECA Intergovernmental Committee of Senior Officials and Experts for North Africa (36th sessions : 2021, Nov. 24 : Addia Ababa, Ethiopia). Addis Ababa :. © UN. ECA,. https://hdl.handle.net/10855/47917"

Concept note

United Nations. Economic Commission for Africa; United Nations. Economic Commission for Africa. Subregional Office West Africa (SRO-WA); United Nations. Economic Commission for Africa; United Nations. Economic Commission for Africa. Subregional Office West Africa (SRO-WA)

"United Nations. Economic Commission for Africa; United Nations. Economic Commission for Africa. Subregional Office West Africa (SRO-WA); United Nations. Economic Commission for Africa; United Nations. Economic Commission for Africa. Subregional Office West Africa (SRO-WA) (2022-08). Concept note. UN.ECA Intergovernmental Committee of Senior Officials and Experts for North Africa (1st Joint Session: 2022, Nov. 1-3: Marrakech, Morocco); UN.ECA Intergovernmental Committee of Senior Officials and Experts for West Africa (1st Joint Session: 2022, Nov. 1-3: Marrakech, Morocco). Addis Ababa :. © UN. ECA,. https://hdl.handle.net/10855/49128"