Integrating renewable energy and climate change polices: exploring policy options for Africa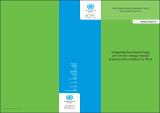 Published
2011-11
Author(s)/Corporate Author (s)
United nations Economic Commission for Africa. African Climate Policy Centre;
United Nations. Economic Commission for Africa.;

Abstract
Adaptation to climate change is another challenge to sustainable development in Africa. Even though Africa contributes less than 4% of global GHG emissions, it is disproportionately affected by climate change effects such as food security, water supply, biodiversity, climate related diseases and other such effects. Energy and climate change are however related, as much of the GHG emissions are related to the way society produces, distributes and consumes energy.This connection offers a policy opportunity that can allow the achievement of energy security goals in a sustainable manner, and in less carbon-intensive ways. The joint exploration of policies that can spur clean energy development that have inherent climate change mitigation benefits is the main focus of this paper.
Citation
"United nations Economic Commission for Africa. African Climate Policy Centre; United Nations. Economic Commission for Africa. (2011-11). Integrating renewable energy and climate change polices: exploring policy options for Africa. Addis Ababa:. © UN. ECA,. https://hdl.handle.net/10855/21059"
Serial Title
ACPC working paper; Vol.10
Related items
Showing items related by title, author, creator and subject.