First Report on the Achievement of Sustainable Development Goals in the Maghreb:Executive Summary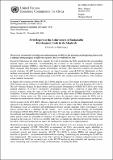 Published
2018-10
Author(s)/Corporate Author (s)
United Nations. Economic Commission for Africa. Subregional Office North Africa (SRO-NA);

Abstract
The Maghreb is the only African sub-region to have achieved the MDG goal of combating hunger. The prevalence of severe food insecurity, measured according to the Food Insecurity Measurement Scale (FIES), is reported to be about 12 percent in North Africa (excluding Mauritania) compared to 26 percent in Africa. Despite the growth gains in agricultural production, the national grain production supply is not meeting demand and remains highly vulnerable to climate change. The Maghreb countries' economies are under-diversified, unsophisticated, with still a limited exportable supply and a relative dependence on imports. As a key pillar of economic and social development, the manufacturing industry provides an opportunity for developing higher value-added sectors and creating jobs. However, the share of this sector in GDP has not shown any significant increase in recent years. Its contribution to employment also remained limited. While medium and high-tech products in industrialized countries make up about 80% of manufacturing output, in Maghreb countries their share is scarcely 10%. The Arab Maghreb Union (AMU) has therefore an important role to play in accompanying its member countries in implementing and monitoring the 2030 agenda and agenda 2063. To this end, it should step up its leadership role in regional coordination so as to facilitate the synergy of development partners' interventions at the sub-regional level and improve their impact, through better mutual access to and resource-sharing.
Citation
"United Nations. Economic Commission for Africa. Subregional Office North Africa (SRO-NA) (2018-10). First Report on the Achievement of Sustainable Development Goals in the Maghreb:Executive Summary. UN. ECA Intergovernmental Committee of Experts (ICE)Meeting (33rd: 2018, Nov. 02 - Oct. 30 :Tunis, Tuninia). Addis Ababa. © UN.ECA. https://hdl.handle.net/10855/41867"
Conference
UN. ECA Intergovernmental Committee of Experts (ICE)Meeting (33rd: 2018, Nov. 02 - Oct. 30 :Tunis, Tuninia)
Related items
Showing items related by title, author, creator and subject.
Note conceptuelle: Atelier de partage de connaissances et de partenariat dans le cadre des forums régionaux sur l'évolution probable du climat

Nations Unies. Commission Economique pour l'Afrique; Nations Unies. Commission Economique pour l'Afrique. Division des initiatives spéciales. Centre africain pour les politiques en matière de climat; Nations Unies. Commission Economique pour l'Afrique; Nations Unies. Commission Economique pour l'Afrique. Division des initiatives spéciales. Centre africain pour les politiques en matière de climat

"Nations Unies. Commission Economique pour l'Afrique; Nations Unies. Commission Economique pour l'Afrique. Division des initiatives spéciales. Centre africain pour les politiques en matière de climat; Nations Unies. Commission Economique pour l'Afrique; Nations Unies. Commission Economique pour l'Afrique. Division des initiatives spéciales. Centre africain pour les politiques en matière de climat (2018-05). Note conceptuelle: Atelier de partage de connaissances et de partenariat dans le cadre des forums régionaux sur l'évolution probable du climat. NU. CEA Atelier de partage de connaissances et de partenariat dans le cadre des forums régionaux sur l'évolution probable du climat (2018, 13-14 mai.: Djibouti, Djibouti). Addis Abeba. © NU. CEA. https://hdl.handle.net/10855/24521"