The architecture and capacity of the African Union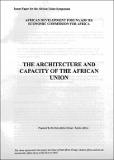 Published
2002-03
Author(s)/Corporate Author (s)
Inter Africa Group;
United Nations. Economic Commission for Africa;
Justice Africa;

Abstract
This Issues Paper addresses four principal issues:The African Union reflects the ambitious impulse towards unity across Africa. As a a result it has adopted the most ambitious unification model,namely one similar to the European Union. Is this necessarily the best blueprint? Or will it need to be adapted to the requirements of Africa?;The Constitutive Act of the African Union has identified the component institutions of the Union. But the specific powers and duties of these institutions need to be determined,along with the sequencing of their establishment. How are these components to be specified and prioritized?;The AU is created in a world with multiple international and regional organizations,which have overlapping mandates and capacities. What linkages should there be between the AU and other international and regional organizations?;All international institutions are ongoing projects, reflecting evolving conditions.The process of creation is as important as the final product. How should the process of building the AU be envisaged?
Citation
"Inter Africa Group; United Nations. Economic Commission for Africa; Justice Africa (2002-03). The architecture and capacity of the African Union. UN. ECA African Development Forum (3rd : 2002, Mar. 3 - 8 : Addis Ababa, Ethiopia). Addis Ababa:. © UN. ECA,. https://hdl.handle.net/10855/1925"
Conference
UN. ECA African Development Forum (3rd : 2002, Mar. 3 - 8 : Addis Ababa, Ethiopia)
Related items
Showing items related by title, author, creator and subject.
Report of the thirty-sixth session of the Intergovernmental Committee of Senior Officials and Experts for North Africa

United Nations. Economic Commission for Africa; United Nations. Economic Commission for Africa. Sub regional office for North Africa; United Nations. Economic Commission for Africa; United Nations. Economic Commission for Africa. Sub regional office for North Africa

"United Nations. Economic Commission for Africa; United Nations. Economic Commission for Africa. Sub regional office for North Africa; United Nations. Economic Commission for Africa; United Nations. Economic Commission for Africa. Sub regional office for North Africa (2021-12). Report of the thirty-sixth session of the Intergovernmental Committee of Senior Officials and Experts for North Africa. UN. ECA Intergovernmental Committee of Senior Officials and Experts for North Africa (36th sessions : 2021, Nov. 24 : Addia Ababa, Ethiopia). Addis Ababa :. © UN. ECA,. https://hdl.handle.net/10855/47917"

Concept note

United Nations. Economic Commission for Africa; United Nations. Economic Commission for Africa. Subregional Office West Africa (SRO-WA); United Nations. Economic Commission for Africa; United Nations. Economic Commission for Africa. Subregional Office West Africa (SRO-WA)

"United Nations. Economic Commission for Africa; United Nations. Economic Commission for Africa. Subregional Office West Africa (SRO-WA); United Nations. Economic Commission for Africa; United Nations. Economic Commission for Africa. Subregional Office West Africa (SRO-WA) (2022-08). Concept note. UN.ECA Intergovernmental Committee of Senior Officials and Experts for North Africa (1st Joint Session: 2022, Nov. 1-3: Marrakech, Morocco); UN.ECA Intergovernmental Committee of Senior Officials and Experts for West Africa (1st Joint Session: 2022, Nov. 1-3: Marrakech, Morocco). Addis Ababa :. © UN. ECA,. https://hdl.handle.net/10855/49128"