Concerted action on transportation in the African region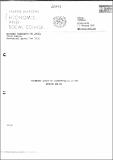 Published
1961-01
Author(s)/Corporate Author (s)
United Nations. Economic and Social Council;
United Nations. Economic Commission for Africa;

Abstract
The paper on "Transport Problems in Relation to Economic Development in West Africa" which has "been prepared, for this session of the Commission follows from the request of the Commission for specific studies and projects in the field of concerted action.. The study of transport problems is, therefore, related to other resolutions of the Commission such as that on surveys of intra-African trade and. industry (Resolution 8(ll)), on inventories of Africans natural resources (Resolution 13(ll)) and other item in the programme of work of the Secretariat such as Project No. 02-0l(c): "Studies of regional trade arrangements made or contemplated in other areas, including the significance of experience gathered in such areas to economic co-operation in. Africa."
Citation
"United Nations. Economic and Social Council; United Nations. Economic Commission for Africa (1961-01). Concerted action on transportation in the African region. UN. ECA (3rd session : Addis Ababa, Ethiopia). [Addis Ababa] :. © UN. ECA,. https://hdl.handle.net/10855/16605"
Conference
UN. ECA (3rd session : Addis Ababa, Ethiopia)
Related items
Showing items related by title, author, creator and subject.
Impact of the economic community of West African States common external tariff and European Union Economic Partnership Agreements

United Nations. Economic Commission for Africa; United Nations. Economic Commission for Africa. Subregional Office West Africa (SRO-WA); United Nations. Economic Commission for Africa. Subregional Office West Africa (SRO-WA); United Nations. Economic Commission for Africa; United Nations. Economic Commission for Africa. Subregional Office West Africa (SRO-WA); United Nations. Economic Commission for Africa. Subregional Office West Africa (SRO-WA)

"United Nations. Economic Commission for Africa; United Nations. Economic Commission for Africa. Subregional Office West Africa (SRO-WA); United Nations. Economic Commission for Africa. Subregional Office West Africa (SRO-WA); United Nations. Economic Commission for Africa; United Nations. Economic Commission for Africa. Subregional Office West Africa (SRO-WA); United Nations. Economic Commission for Africa. Subregional Office West Africa (SRO-WA) (2017). Impact of the economic community of West African States common external tariff and European Union Economic Partnership Agreements. Addis Ababa. © UN.ECA. https://hdl.handle.net/10855/43873"

Information society : regional dimensions Africa, Europe & North America, Latin America & Caribbean, Asia & Pacific, Western Asia.

United Nations. Economic Commission for Africa.; United Nations. Economic Commission for Latin America and the Caribbean; United Nations. Economic Commission for Latin America and the Caribbean; United Nations. Economic and Social Commission for Asia and the Pacific; United Nations. Economic and Social Commission for Western Asia

"United Nations. Economic Commission for Africa.; United Nations. Economic Commission for Latin America and the Caribbean; United Nations. Economic Commission for Latin America and the Caribbean; United Nations. Economic and Social Commission for Asia and the Pacific; United Nations. Economic and Social Commission for Western Asia (2003). Information society : regional dimensions Africa, Europe & North America, Latin America & Caribbean, Asia & Pacific, Western Asia.. World Summit on the Information Society (1st : 2003 : Geneva, Switzerland). Geneva :. © UN.ECA. https://hdl.handle.net/10855/41101"

test

United Nations. Economic Commission for Africa; Nations Unies. Commission Economique pour l'Afrique. Centre africain pour le genre et le développement; Nations Unies. Commission Economique pour l'Afrique. Bureau Sous-Régional pour l'Afrique Centrale; United Nations. Economic Commission for Africa

"Smith, Test; United Nations. Economic Commission for Africa; Nations Unies. Commission Economique pour l'Afrique. Centre africain pour le genre et le développement; Nations Unies. Commission Economique pour l'Afrique. Bureau Sous-Régional pour l'Afrique Centrale; United Nations. Economic Commission for Africa test. "