Assessment of the impact of the economic partnership agreement between the COMESA countries and the European union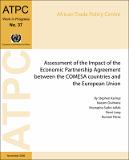 Published
2006-11
Author(s)/Corporate Author (s)
Karingi, Stephen N.;
Sadni - Jallab, Mustapha;
Lang, Rémi;
Perez, Romain;
Oulmane, Nassim.;
United Nations. Economic Commission for Africa;

Abstract
The purpose of this study, is to evaluate possible economic repercussions of the trade facet, in Economic Partnership Agreements (EPAs), currently being negotiated between countries of the Common Market in Eastern and Southern Africa (COMESA) and Member-States of European Union (EU). In so-doing, we have used two complementary models, the first one, based-on a general equilibrium approach, and the second, a partial equilibrium method. Indeed, multilateral trade agreements, will have implications trade activities, on the production of goods and factors, the price of consumer-goods, on the are of specialization of national economies, and their productive structure. Existing trade policy instruments also, will have direct and indirect effects on the market value of goods produced locally, or imported onto the markets of the COMESA sub-region.
Citation
"Karingi, Stephen N.; Sadni - Jallab, Mustapha; Lang, Rémi; Perez, Romain; Oulmane, Nassim.; United Nations. Economic Commission for Africa (2006-11). Assessment of the impact of the economic partnership agreement between the COMESA countries and the European union. Addis Ababa :. © UN. ECA,. https://hdl.handle.net/10855/15457"
Serial Title
ATPC work in progress No.37
Related items
Showing items related by title, author, creator and subject.
Report of mission to Kampala 7 February-13 February 2005

United Nations. Economic and Social Council; United Nations. Economic Commission for Africa. African Centre for Gender and Development; United Nations. Economic and Social Council; United Nations. Economic Commission for Africa. African Centre for Gender and Development; United Nations. Economic Commission for Africa.

"Tadria, Hilda; United Nations. Economic and Social Council; United Nations. Economic Commission for Africa. African Centre for Gender and Development; United Nations. Economic and Social Council; United Nations. Economic Commission for Africa. African Centre for Gender and Development; United Nations. Economic Commission for Africa. (2005). Report of mission to Kampala 7 February-13 February 2005. Addis Ababa:. © UN. ECA,. https://hdl.handle.net/10855/41484"

Framework for a set of e-government core indicators

United Nations Conference on Trade and Development; United Nations. Economic Commission for Africa.; United Nations. Economic Commission for Latin America and the Caribbean; United Nations. Economic and Social Commission for Asia and the Pacific; United Nations. Economic and Social Commission for Western Asia; Statistical Office of the European Union; International Telecommunication Union; Organisation for Economic Co-operation and Development; United Nations Conference on Trade and Development

"United Nations Conference on Trade and Development; United Nations. Economic Commission for Africa.; United Nations. Economic Commission for Latin America and the Caribbean; United Nations. Economic and Social Commission for Asia and the Pacific; United Nations. Economic and Social Commission for Western Asia; Statistical Office of the European Union; International Telecommunication Union; Organisation for Economic Co-operation and Development; United Nations Conference on Trade and Development (2012). Framework for a set of e-government core indicators. Addis Ababa :. © UN. ECA,. https://hdl.handle.net/10855/25669"

Report of the meeting of the committee on women and development: expert session

United Nations. Economic and Social Council; United Nations. Economic Commission for Africa. African Centre for Gender and Development; United Nations. Economic Commission for Africa. African Centre for Gender and Development; United Nations. Economic and Social Council; United Nations. Economic Commission for Africa.

"United Nations. Economic and Social Council; United Nations. Economic Commission for Africa. African Centre for Gender and Development; United Nations. Economic Commission for Africa. African Centre for Gender and Development; United Nations. Economic and Social Council; United Nations. Economic Commission for Africa. (2005-10). Report of the meeting of the committee on women and development: expert session. UN. ECA Committee on Women and Development Meeting(2005, Oct. 13-14 :Dakar, Senegal). Addis Ababa :. © UN. ECA,. https://hdl.handle.net/10855/25697"