Strengthening the capacity of popular development organisation to effectively make contributions to and influence the policy making proess in Uganda : workshop report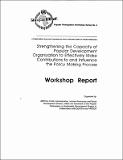 Published
1994
Author(s)/Corporate Author (s)
United Nations. Economic Commission for Africa. Public Administration, Human Resources, and Social Development Division;
Development Network of the Indigenous Voluntary Associations of Uganda.;
PAPSCA (Organization). PCMU.;

Abstract
The African Charter for Popular Participation in Development, adopted by the International Conference on Popular Participation in the Recovery and Development of Africa in 1990, emphasized the role of grass-roots organizations, popular development organizations (PDOs) and the governments in the following terms: effective dialogue between governments, PDOs and grassroots organizations is essential and valuable and should be established to enable honest and open dialogue between African governments, grass-roots organizations and PDOs so that the experience of the grass-roots participatory development informs national policy-making. The workshop recommended that follow-up training workshop be organized to discuss and deliberate on the relationship between governments and popular development organizations with particular emphasis on strengthening the policy and advocacy roles of these agencies. Based on this recommendation, ECA in collaboration with DENIVA, the consortium organizations of Ugandan NGOs, organized training workshop on the theme "Strengthening Development Organizations Capacity to Effectively Make Contributions to and Influence Policy Making Process".
Citation
"United Nations. Economic Commission for Africa. Public Administration, Human Resources, and Social Development Division; Development Network of the Indigenous Voluntary Associations of Uganda.; PAPSCA (Organization). PCMU. (1994). Strengthening the capacity of popular development organisation to effectively make contributions to and influence the policy making proess in Uganda : workshop report. Popular participation workshop series;. no. 4, 36 p.. Addis Ababa. © UN. ECA. https://hdl.handle.net/10855/15440"
Serial Title
Popular participation workshop series;
Related items
Showing items related by title, author, creator and subject.