Manpower and training : national machinery for manpower planning and administration of training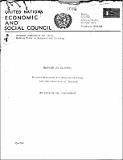 Published
1965-07
Author(s)/Corporate Author (s)
United Nations. Economic and Social Council;
United Nations. Economic Commission for Africa;

Abstract
The purpose of this paper is to outline some essential elements of manpower planning for accelerated development with a view to stimulating discussions on the urgent necessity for manpower planning in Africa today and on the type of organizational machinery that is desirable for effective manpower planning and training administration. It is hoped that in discussing country experience in this field due attention will be given to practice! measures for solving the administrative and technical problems inhibiting effective manpower planning and use in Africa.
Citation
"United Nations. Economic and Social Council; United Nations. Economic Commission for Africa (1965-07). Manpower and training : national machinery for manpower planning and administration of training. UN. ECA Working Party of Manpower and Training. Addis Ababa :. © UN. ECA,. https://hdl.handle.net/10855/9895"
Conference
UN. ECA Working Party of Manpower and Training
Related items
Showing items related by title, author, creator and subject.
Enregistrement des faits d'état civil en situation de conflit et d'urgence

Nations Unies. Commission Economique pour l'Afrique; Organisation mondiale de la Santé; Commission de l'Union Africaine; Fonds international de secours à l'enfance; Haut-Commissariat des Nations Unies aux droits de l'homme; Fonds des Nations Unies pour la population; Banque africaine de développement; Nations Unies. Commission Economique pour l'Afrique; Organisation mondiale de la Santé; Commission de l'Union Africaine; Fonds international de secours à l'enfance; Haut-Commissariat des Nations Unies aux droits de l'homme; Fonds des Nations Unies pour la population; Banque africaine de développement

"Nations Unies. Commission Economique pour l'Afrique; Organisation mondiale de la Santé; Commission de l'Union Africaine; Fonds international de secours à l'enfance; Haut-Commissariat des Nations Unies aux droits de l'homme; Fonds des Nations Unies pour la population; Banque africaine de développement; Nations Unies. Commission Economique pour l'Afrique; Organisation mondiale de la Santé; Commission de l'Union Africaine; Fonds international de secours à l'enfance; Haut-Commissariat des Nations Unies aux droits de l'homme; Fonds des Nations Unies pour la population; Banque africaine de développement (2017-12). Enregistrement des faits d'état civil en situation de conflit et d'urgence. NU. CEA Conférence des ministres africains chargés de l'enregistrement des faits d'état civil (4ème: 2017, 4-8 déc.: Nouakchott, Mauritanie); NU. CEA Réunion de groupe d'experts (2017, 4-8 déc.: Nouakchott, Mauritanie). Addis Abeba. © NU. CEA. https://hdl.handle.net/10855/24046"

Aperçu de l'évolution récente de la situation économique et sociale en Afrique

United Nations. Economic Commission for Africa. African Institute for Economic Development and Planning(IDEP); Nations Unies. Commission Economique pour l'Afrique; Nations Unies. Conseil Economique et Social; United Nations. Economic Commission for Africa. African Institute for Economic Development and Planning(IDEP); Nations Unies. Commission Economique pour l'Afrique; Nations Unies. Conseil Economique et Social

"United Nations. Economic Commission for Africa. African Institute for Economic Development and Planning(IDEP); Nations Unies. Commission Economique pour l'Afrique; Nations Unies. Conseil Economique et Social; United Nations. Economic Commission for Africa. African Institute for Economic Development and Planning(IDEP); Nations Unies. Commission Economique pour l'Afrique; Nations Unies. Conseil Economique et Social (2018-05). Aperçu de l'évolution récente de la situation économique et sociale en Afrique. NU. CEA Comité d'experts de la Conférence des ministres africains des finances, de la planification et du développement économique (37ème: 11-12 mai, 2018: Addis Abeba, Ethiopie). Addis Abeba:. © NU. CEA,. https://hdl.handle.net/10855/24450"

Impact of the economic community of West African States common external tariff and European Union Economic Partnership Agreements

United Nations. Economic Commission for Africa; United Nations. Economic Commission for Africa. Subregional Office West Africa (SRO-WA); United Nations. Economic Commission for Africa. Subregional Office West Africa (SRO-WA); United Nations. Economic Commission for Africa; United Nations. Economic Commission for Africa. Subregional Office West Africa (SRO-WA); United Nations. Economic Commission for Africa. Subregional Office West Africa (SRO-WA)

"United Nations. Economic Commission for Africa; United Nations. Economic Commission for Africa. Subregional Office West Africa (SRO-WA); United Nations. Economic Commission for Africa. Subregional Office West Africa (SRO-WA); United Nations. Economic Commission for Africa; United Nations. Economic Commission for Africa. Subregional Office West Africa (SRO-WA); United Nations. Economic Commission for Africa. Subregional Office West Africa (SRO-WA) (2017). Impact of the economic community of West African States common external tariff and European Union Economic Partnership Agreements. Addis Ababa. © UN.ECA. https://hdl.handle.net/10855/43873"