Key issues and challenges associated with transition from high to lower fertility and mortality in Africa as implied in the and the ICPD.PA.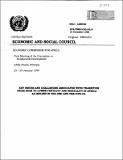 Published
1998-12
Author(s)/Corporate Author (s)
United Nations. Economic and Social Council;
United Nations. Economic Commission for Africa African Center for Statistics;

Abstract
This report to the First Committee on Sustainable Development (CSD) is based mainly on the findings of the study done by ECA Food Security and Sustainable Development Division (FSSDD) in 1997 bearing the same title. The study was undertaken with the objective of identifying the most decisive factors including economic, social, demographic and cultural that significantly contribute to the reduction of mortality and fertility in Africa. This was done with a view to propose to decision-makers and development planners strategies that could be pursued to facilitate the process of demographic transition in Africa.
Citation
"United Nations. Economic and Social Council; United Nations. Economic Commission for Africa African Center for Statistics (1998-12). Key issues and challenges associated with transition from high to lower fertility and mortality in Africa as implied in the and the ICPD.PA.. UN. ECA Meeting of the Committee on Sustainable Development (1st : 1999, Jan. 25 - 29 : Addis Ababa, Ethiopia). Addis Ababa :. © UN. ECA,. https://hdl.handle.net/10855/981"
Conference
UN. ECA Meeting of the Committee on Sustainable Development (1st : 1999, Jan. 25 - 29 : Addis Ababa, Ethiopia)