Mission report on workshop on : "water and nature : environment and ecosystems"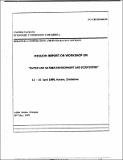 Published
1999-05
Author(s)/Corporate Author (s)
United Nations. Economic Commission for Africa. Regional Cooperation and Integration Division;

Abstract
The goal of "water and nature: environment ecosystems' is to have water resources for food security, life and health, as well as resources for the maintenance of livelihoods and non-consumptive processes and products such as biodiversity, nutrient cycling, recreational, aesthetic and cultural values. This should be within a context where the management of water resources enhances both social security and equity and the viability of the ecosystems within which these resources are found.
Citation
"United Nations. Economic Commission for Africa. Regional Cooperation and Integration Division (1999-05). Mission report on workshop on : "water and nature : environment and ecosystems". UN. ECA Mission report on workshop on water and nature, environment and ecosystems (1999, April 12- 15: Harare, Zimbabwe.). Addis Ababa :. © UN. ECA,. https://hdl.handle.net/10855/9400"
Conference
UN. ECA Mission report on workshop on water and nature, environment and ecosystems (1999, April 12- 15: Harare, Zimbabwe.)