Report on statistical activities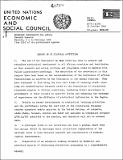 Published
1964-10
Author(s)/Corporate Author (s)
United Nations. Economic and Social Council;
United Nations. Economic Commission for Africa;

Abstract
The aim of the Commission in this field has been to promote and stimulate statistical development in all African countries and territories so that economic and social problems and programmes could be handled with fuller quantitative knowledge. The activities of the secretariat in this respect have been based on the recommendations of the Conference of African Statisticians as approved by the Commission at its annual sessions. They have continued to flow along the four main lines of training staff, carrying out methodological research aimed at the formulation of statistical standards adapted to African conditions, rendering direct assistance to governments at their request in specific fields and enhancing the exchange of experiences and the diffusion of statistical information in the Region.
Citation
"United Nations. Economic and Social Council; United Nations. Economic Commission for Africa (1964-10). Report on statistical activities. UN. ECA (7th session : 1965, Feb. 9 - 23 : Nairobi, Kenya). Addis Ababa :. © UN. ECA,. http://hdl.handle.net/10855/9295"
Conference
UN. ECA (7th session : 1965, Feb. 9 - 23 : Nairobi, Kenya)
Related items
Showing items related by title, author, creator and subject.
Impact of the economic community of West African States common external tariff and European Union Economic Partnership Agreements

United Nations. Economic Commission for Africa; United Nations. Economic Commission for Africa. Subregional Office West Africa (SRO-WA); United Nations. Economic Commission for Africa. Subregional Office West Africa (SRO-WA); United Nations. Economic Commission for Africa; United Nations. Economic Commission for Africa. Subregional Office West Africa (SRO-WA); United Nations. Economic Commission for Africa. Subregional Office West Africa (SRO-WA)

"United Nations. Economic Commission for Africa; United Nations. Economic Commission for Africa. Subregional Office West Africa (SRO-WA); United Nations. Economic Commission for Africa. Subregional Office West Africa (SRO-WA); United Nations. Economic Commission for Africa; United Nations. Economic Commission for Africa. Subregional Office West Africa (SRO-WA); United Nations. Economic Commission for Africa. Subregional Office West Africa (SRO-WA) (2017). Impact of the economic community of West African States common external tariff and European Union Economic Partnership Agreements. Addis Ababa. © UN.ECA. https://repository.uneca.org/handle/10855/43873"

Information society : regional dimensions Africa, Europe & North America, Latin America & Caribbean, Asia & Pacific, Western Asia.

United Nations. Economic Commission for Africa.; United Nations. Economic Commission for Latin America and the Caribbean; United Nations. Economic Commission for Latin America and the Caribbean; United Nations. Economic and Social Commission for Asia and the Pacific; United Nations. Economic and Social Commission for Western Asia

"United Nations. Economic Commission for Africa.; United Nations. Economic Commission for Latin America and the Caribbean; United Nations. Economic Commission for Latin America and the Caribbean; United Nations. Economic and Social Commission for Asia and the Pacific; United Nations. Economic and Social Commission for Western Asia (2003). Information society : regional dimensions Africa, Europe & North America, Latin America & Caribbean, Asia & Pacific, Western Asia.. World Summit on the Information Society (1st : 2003 : Geneva, Switzerland). Geneva :. © UN.ECA. http://hdl.handle.net/10855/41101"

Rapport sur le développement durable en Afrique 2018: vers un continent transforme et résilient

Nations Unies. Commission Economique pour l'Afrique. Centre africain pour le genre et le développement; Commission de l'Union Africaine; Nations Unies Programme de Développement; Banque africaine de développement

"Nations Unies. Commission Economique pour l'Afrique. Centre africain pour le genre et le développement; Commission de l'Union Africaine; Nations Unies Programme de Développement; Banque africaine de développement (2018-11). Rapport sur le développement durable en Afrique 2018: vers un continent transforme et résilient. Addis Abeba. © NU. CEA. "