Report of the ECA study tour in the field of social welfare in Africa : (Ghana, Ivory Coast, Senegal and the United Arab Republic)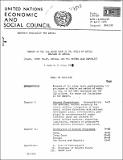 Published
1964-04
Author(s)/Corporate Author (s)
United Nations. Economic and Social Council;
United Nations. Economic Commission for Africa;

Abstract
The study tour was organized in accordance with the BOA Programme of Work and Priorities 1963-1964. Its purpose was to bring together directors and administrators of national social welfare programmes from a. number of African countries, (a) To visit and study social welfare programmes in two French-speaking countries and two English-speaking countries (in Africa) which appeared to have developed systematic programmes in the field of social welfare (b) To exchange views within the group as well as with social welfare officials in the countries visited and (c) To report on the characteristics of the organization and administration of the various typos of social welfare programmes both at national and at local levels, as well as the training programmes for social welfare personnel.
Citation
"United Nations. Economic and Social Council; United Nations. Economic Commission for Africa (1964-04). Report of the ECA study tour in the field of social welfare in Africa : (Ghana, Ivory Coast, Senegal and the United Arab Republic). UN. ECA (1964,1 jun.-15 jul.). Addis Ababa :. © UN. ECA,. https://hdl.handle.net/10855/8911"
Conference
UN. ECA (1964,1 jun.-15 jul.)
Related items
Showing items related by title, author, creator and subject.
Indice africain de développement social indice africain de développement social (IADS): mesure de l'exclusion humaine dans une optique de transformation structurelle

Nations Unies. Commission Economique pour l'Afrique. Division des politiques de développement social. Section de l'emploi et de la protection sociale; Nations Unies. Commission Economique pour l'Afrique. Division des politiques de développement social. Section de l'emploi et de la protection sociale

"Nations Unies. Commission Economique pour l'Afrique. Division des politiques de développement social. Section de l'emploi et de la protection sociale; Nations Unies. Commission Economique pour l'Afrique. Division des politiques de développement social. Section de l'emploi et de la protection sociale (2017-11). Indice africain de développement social indice africain de développement social (IADS): mesure de l'exclusion humaine dans une optique de transformation structurelle. Addis Abeba:. © NU. CEA,. https://hdl.handle.net/10855/23611"

Secor electronic satellite tracking system = Le système secor pour la poursuite des satellites

United Nations. Economic and Social Council; Nations Unies. Conseil Economique et Social; United Nations. Economic Commission for Africa.; United Nations. Economic and Social Council; Nations Unies. Conseil Economique et Social; Nations Unies. Commission économique pour l'Afrique

"United Nations. Economic and Social Council; Nations Unies. Conseil Economique et Social; United Nations. Economic Commission for Africa.; United Nations. Economic and Social Council; Nations Unies. Conseil Economique et Social; Nations Unies. Commission économique pour l'Afrique (1966-09). Secor electronic satellite tracking system = Le système secor pour la poursuite des satellites. UN. ECA United Nations Regional Cartographic Conference for Africa (2nd : 1966, Sep. 12 - 24 : Tunis, Tunisia ); NU. CEA Conférence Cartographique Régionale des Nations Unies pour l'Afrique (2ème : 1966, septembre 12 - 24 : Tunis, Tunisie.). Addis Ababa:. © UN. ECA,. https://hdl.handle.net/10855/28480"