Social development : programme Trends and Prospects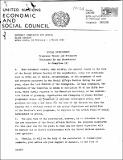 Published
1964-02
Author(s)/Corporate Author (s)
Nations Unies. Commission Economique pour l'Afrique;
Nations Unies. Conseil Economique et Social;

Abstract
This statement covers, very briefly, the general trends in the work of the Social Affairs Section of the secretariat, since its establishment in 1959s and it dwells, in particular, on the programme of work and projects sponsored by the Social Affairs Section during the past year, since the last Session of the Commission In this connexion, the attention of the Committee is drawn to Resolution 88 of the Fifth- Session, whose timely requests to the Executive Secretary, in the substantive fields of planning, organization and financing of social welfare programmes within the framework of national development plans, have provided not only a new basis for the work of the Section but also the impetus for a critical review of the policy objectives and priorities of the Section's work programme, in relation to the entire field of social development in Africa.
Citation
"Nations Unies. Commission Economique pour l'Afrique; Nations Unies. Conseil Economique et Social (1964-02). Social development : programme Trends and Prospects. UN. ECA (6th Session : 1964, Feb. 19 - Mar. 03 : Addis Ababa, Ethiopia). Addis Ababa :. © UN. ECA,. https://hdl.handle.net/10855/8690"
Conference
UN. ECA (6th Session : 1964, Feb. 19 - Mar. 03 : Addis Ababa, Ethiopia)
Related items
Showing items related by title, author, creator and subject.
Indice africain de développement social indice africain de développement social (IADS): mesure de l'exclusion humaine dans une optique de transformation structurelle

Nations Unies. Commission Economique pour l'Afrique. Division des politiques de développement social. Section de l'emploi et de la protection sociale; Nations Unies. Commission Economique pour l'Afrique. Division des politiques de développement social. Section de l'emploi et de la protection sociale

"Nations Unies. Commission Economique pour l'Afrique. Division des politiques de développement social. Section de l'emploi et de la protection sociale; Nations Unies. Commission Economique pour l'Afrique. Division des politiques de développement social. Section de l'emploi et de la protection sociale (2017-11). Indice africain de développement social indice africain de développement social (IADS): mesure de l'exclusion humaine dans une optique de transformation structurelle. Addis Abeba:. © NU. CEA,. https://hdl.handle.net/10855/23611"

Secor electronic satellite tracking system = Le système secor pour la poursuite des satellites

United Nations. Economic and Social Council; Nations Unies. Conseil Economique et Social; United Nations. Economic Commission for Africa.; United Nations. Economic and Social Council; Nations Unies. Conseil Economique et Social; Nations Unies. Commission économique pour l'Afrique

"United Nations. Economic and Social Council; Nations Unies. Conseil Economique et Social; United Nations. Economic Commission for Africa.; United Nations. Economic and Social Council; Nations Unies. Conseil Economique et Social; Nations Unies. Commission économique pour l'Afrique (1966-09). Secor electronic satellite tracking system = Le système secor pour la poursuite des satellites. UN. ECA United Nations Regional Cartographic Conference for Africa (2nd : 1966, Sep. 12 - 24 : Tunis, Tunisia ); NU. CEA Conférence Cartographique Régionale des Nations Unies pour l'Afrique (2ème : 1966, septembre 12 - 24 : Tunis, Tunisie.). Addis Ababa:. © UN. ECA,. https://hdl.handle.net/10855/28480"