Definition, role and significance of development support communication for effective participation in the development process : a training manual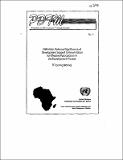 Published
1990
Author(s)/Corporate Author (s)
United Nations. Economic Commission for Africa. Public Administration, Human Resources, and Social Development Division;

Abstract
This fifth issue of the Participatory Development Training Manuals is aimed at those who are actively engaged in development work, but who are not necessarily communication specialists. It, therefore, includes a fairly broad description of how communication works and how use can be made of human resources to communicate. The emphasis is on how communication works in, and can enhance, participation especially in development work. The aim is to provide something of a "know-how", a "know-why" and a "do how" (as stated by Jerome Keating in an article on Technology Transfer in Development Communication Report 93/4) i.e. under standing the process, know why certain things have to be done, and learning the skills to do them.
Citation
"United Nations. Economic Commission for Africa. Public Administration, Human Resources, and Social Development Division (1990). Definition, role and significance of development support communication for effective participation in the development process : a training manual. [Addis Ababa] :. © UN. ECA,. https://hdl.handle.net/10855/831"
Serial Title
Participatory Development Training Manuals V no. 5
Collections
Related items
Showing items related by title, author, creator and subject.