Practices and procedures of government procurement in Africa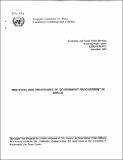 Published
1997-10
Author(s)/Corporate Author (s)
United Nations. Economic Commission for Africa. Economic and Social Policy Division;

Abstract
The government is the largest purchaser of goods and services in most countries, both developing and developed. Government procurement markets represent huge amounts which are estimated at several trillions of dollars in commercial transactions every year. Notwithstanding the importance of government procurement in international trade, this sector had not attracted the attention of the negotiators in GATT until the time of the Tokyo Round of MTNs (1973-1979). The lack of international obligations and the widespread discrimination in the area finally brought the subject under the scrutiny of GATT. A "Draft Instrument on Government Purchasing Policies. Procedures and Practices'", prepared by the OECD. constituted the main backaround documentation made available to the Sub-Group on Government Procurement in the context of the Tokyo Round. Different draft Agreements were tabled and discussed until the final text on the Agreement on Government Procurement was established by the Sub-Committee in April 1979 and transmitted to the Trade Negotiations Committee. This Agreement was only limited to government procurement of products, inclusion of the services being only limited to those that are incidental to the supply of these products, and provided they cost less than the products. The possibility of expanding the Agreement to the service contracts was to be explored at a later date.
Citation
"United Nations. Economic Commission for Africa. Economic and Social Policy Division (1997-10). Practices and procedures of government procurement in Africa. [Addis Ababa] :. © UN. ECA,. http://hdl.handle.net/10855/7768"
Serial Title
Working paper series ; Working paper series (United Nations Economic Commission for Africa);
Related items
Showing items related by title, author, creator and subject.
Administration for development

United Nations. Economic Commission for Africa. Public Administration Section; United Nations. Economic Commission for Africa; United Nations

"United Nations. Economic Commission for Africa. Public Administration Section; United Nations. Economic Commission for Africa; United Nations (1971). Administration for development. [Addis Ababa] :. © UN. ECA,. http://hdl.handle.net/10855/14951"

La privatisation des entreprises publiques: les leçons des expériences africaines

Nations Unies. Commission Economique pour l'Afrique. Division de l'administration publique, des resources humaines et du développement social

"Mostafa, Rhomari; Nations Unies. Commission Economique pour l'Afrique. Division de l'administration publique, des resources humaines et du développement social (1993). La privatisation des entreprises publiques: les leçons des expériences africaines. NU. CEA Conférence Régionale sur la Gestion du Développement en Afrique: Trente années d'expérience, les nouveaux défis et les priorités futures (1993, mars 8 - 12 : Addis Abeba, Ethiopie).. Addis Abeba :. © NU. CEA,. http://hdl.handle.net/10855/3859"