Report on regional meeting on public administration and development : from structural adjustment to improved efficiency in government25-27 March 1996, Windhoek,Nambia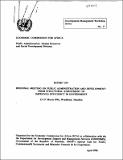 Published
1996-04
Author(s)/Corporate Author (s)
United Nations. Economic Commission for Africa;
United Nations. Economic Commission for Africa. Public Administration, Human Resources, and Social Development Division;

Abstract
By Resolution, 49/136 of 19 December 1994 the General Assembly of the United Nations decided to resume its fiftieth session in March-April 1996 in order to examine the question of Public Administration and Development, "exchange important experiences, review the activities of the United Nations in this field, and make recommendations as appropriate". Operative paragraph 8 of the Resolution invited the "Regional Commissions to consider in 1995 the role of Public Administration in Development and to report, through the Economic & Social Council to the General Assembly at its resumed session". DDSMS, which is responsible for the preparation of the 50th Resumed Session on Public Administration and Development, established, a Technical Committee in which it associated ECA. The Technical Committee is composed in addition to DDSMS and ECA, the World Bank, UNDP, ILO, HAS and Harvard University. ECA also participated in the inter-agency meeting which was convened in New York on 28 July 1995 and in the Twelfth Meeting of Experts on the United Nations Program on Public Administration and Finance, which was held in New York from 29 July to 11 August 1995. During these meetings, consultations were held between DDSMS and ECA on the organization of a possible joint seminar in Africa on the subject of Structural Adjustment and Improved Efficiency in Government. The (Commonwealth Secretariat) SU/TCDC expressed/rephrase interest to participate in the Seminar.
Citation
"United Nations. Economic Commission for Africa; United Nations. Economic Commission for Africa. Public Administration, Human Resources, and Social Development Division (1996-04). Report on regional meeting on public administration and development : from structural adjustment to improved efficiency in government25-27 March 1996, Windhoek,Nambia. Addis Ababa :. © UN. ECA,. http://hdl.handle.net/10855/7318"
Serial Title
Development Management Series ; No.17
Related items
Showing items related by title, author, creator and subject.
La privatisation des entreprises publiques: les leçons des expériences africaines

Nations Unies. Commission Economique pour l'Afrique. Division de l'administration publique, des resources humaines et du développement social

"Mostafa, Rhomari; Nations Unies. Commission Economique pour l'Afrique. Division de l'administration publique, des resources humaines et du développement social (1993). La privatisation des entreprises publiques: les leçons des expériences africaines. NU. CEA Conférence Régionale sur la Gestion du Développement en Afrique: Trente années d'expérience, les nouveaux défis et les priorités futures (1993, mars 8 - 12 : Addis Abeba, Ethiopie).. Addis Abeba :. © NU. CEA,. http://hdl.handle.net/10855/3859"

Promotion de l'éthique et la responsabilité dans les services publics africains

Nations Unies. Commission Economique pour l'Afrique. Division de l'administration publique, des resources humaines et du développement social

"Rasheed, Sadig; Nations Unies. Commission Economique pour l'Afrique. Division de l'administration publique, des resources humaines et du développement social (1993-03). Promotion de l'éthique et la responsabilité dans les services publics africains. NU. CEA Conférence régionale sur la gestion du développement en Afrique (1993, 8 - 12 mar. : Addis Abeba, Ethiopie).. Addis Abeba:. © NU. CEA,. http://hdl.handle.net/10855/3821"