Report of the working party on customs administration in West Africa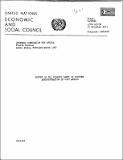 Published
1961-11
Author(s)/Corporate Author (s)
United Nations. Economic and Social Council;
United Nations. Economic Commission for Africa;

Abstract
The Working Party on Customs Administration in West Africa was organized in pursuance of Resolution 28(lll), adopted by the Economic Commission for Africa at its third session, which established a Standing Trade Committee and authorized the Executive Secretary to set up working parties to study the special problems of the various sub-regions. The preparations for the Working Party included a detailed enquiry into the problems and practices of the Customs administration of West African countries, and territories on the basic of a questionnaire prepared in cooperation with the Secretariat of the Contracting Parties to GATT, The results of this enquiry are presented in a document (B/0N*14/STCMiPCAfcl) which served as the basis for the discussions of the Working Party.
Citation
"United Nations. Economic and Social Council; United Nations. Economic Commission for Africa (1961-11). Report of the working party on customs administration in West Africa. UN. ECA (4th session : 1962, Feb. - Mar. : Addis Ababa, Ethiopia). Addis Ababa :. © UN. ECA,. https://hdl.handle.net/10855/6256"
Conference
UN. ECA (4th session : 1962, Feb. - Mar. : Addis Ababa, Ethiopia)
Related items
Showing items related by title, author, creator and subject.
Information society : regional dimensions Africa, Europe & North America, Latin America & Caribbean, Asia & Pacific, Western Asia.

United Nations. Economic Commission for Africa.; United Nations. Economic Commission for Latin America and the Caribbean; United Nations. Economic Commission for Latin America and the Caribbean; United Nations. Economic and Social Commission for Asia and the Pacific; United Nations. Economic and Social Commission for Western Asia

"United Nations. Economic Commission for Africa.; United Nations. Economic Commission for Latin America and the Caribbean; United Nations. Economic Commission for Latin America and the Caribbean; United Nations. Economic and Social Commission for Asia and the Pacific; United Nations. Economic and Social Commission for Western Asia (2003). Information society : regional dimensions Africa, Europe & North America, Latin America & Caribbean, Asia & Pacific, Western Asia.. World Summit on the Information Society (1st : 2003 : Geneva, Switzerland). Geneva :. © UN.ECA. https://hdl.handle.net/10855/41101"

Framework for a set of e-government core indicators

United Nations Conference on Trade and Development; United Nations. Economic Commission for Africa.; United Nations. Economic Commission for Latin America and the Caribbean; United Nations. Economic and Social Commission for Asia and the Pacific; United Nations. Economic and Social Commission for Western Asia; Statistical Office of the European Union; International Telecommunication Union; Organisation for Economic Co-operation and Development; United Nations Conference on Trade and Development

"United Nations Conference on Trade and Development; United Nations. Economic Commission for Africa.; United Nations. Economic Commission for Latin America and the Caribbean; United Nations. Economic and Social Commission for Asia and the Pacific; United Nations. Economic and Social Commission for Western Asia; Statistical Office of the European Union; International Telecommunication Union; Organisation for Economic Co-operation and Development; United Nations Conference on Trade and Development (2012). Framework for a set of e-government core indicators. Addis Ababa :. © UN. ECA,. https://hdl.handle.net/10855/25669"

Report of mission to Kampala 7 February-13 February 2005

United Nations. Economic and Social Council; United Nations. Economic Commission for Africa. African Centre for Gender and Development; United Nations. Economic and Social Council; United Nations. Economic Commission for Africa. African Centre for Gender and Development; United Nations. Economic Commission for Africa.

"Tadria, Hilda; United Nations. Economic and Social Council; United Nations. Economic Commission for Africa. African Centre for Gender and Development; United Nations. Economic and Social Council; United Nations. Economic Commission for Africa. African Centre for Gender and Development; United Nations. Economic Commission for Africa. (2005). Report of mission to Kampala 7 February-13 February 2005. Addis Ababa:. © UN. ECA,. https://hdl.handle.net/10855/41484"