Wild life conservation & tourism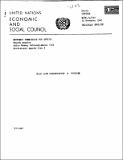 Published
1962-11
Author(s)/Corporate Author (s)
United Nations. Economic and Social Council;
United Nations. Economic Commission for Africa;

Abstract
The importance of tourism as a source of foreign exchange, attracted by the existence of National Parks and Game Reserves can hardly be underestimated. As urbanization increases in Europe and North America, and as it becomes relatively cheaper and quicker to visit Africa, there is likely to be an ever increasing desire to visit areas in which natural resources in the form of wild life are conserved. In East Africa tourism accounts for some £8,000,000 of foreign exchange every year and is the second most important revenue earner in the balance of payments. In some countries of Africa which have en abundance of wild life, their organization as a tourist attraction has been completely neglected and a valuable source of revenue consequently lost. In other more densely populated areas it should be possible to build up herds of game as a tourist attraction. Although East, Central, and South Africa are well endowed with tourist attractions of this sort, in the rest of Africa these resources have hardly been touched.
Citation
"United Nations. Economic and Social Council; United Nations. Economic Commission for Africa (1962-11). Wild life conservation & tourism. UN. ECA (4th session : 1962, Feb. - Mar. : Addis Ababa, Ethiopia). Addis Ababa :. © UN. ECA,. https://hdl.handle.net/10855/6236"
Conference
UN. ECA (4th session : 1962, Feb. - Mar. : Addis Ababa, Ethiopia)
Related items
Showing items related by title, author, creator and subject.
Note conceptuelle: Comité intergouvernemental de hauts fonctionnaires et d'experts pour l'Afrique du Nord

Nations Unies. Commission Economique pour l'Afrique; Nations Unies. Commission économique pour l'Afrique. Bureau Sous-Régional pour l'Afrique de l'Ouest; Nations Unies. Commission économique pour l'Afrique. Bureau Sous-Régional pour l'Afrique du Nord

"Nations Unies. Commission Economique pour l'Afrique; Nations Unies. Commission économique pour l'Afrique. Bureau Sous-Régional pour l'Afrique de l'Ouest; Nations Unies. Commission économique pour l'Afrique. Bureau Sous-Régional pour l'Afrique du Nord (2022-08). Note conceptuelle: Comité intergouvernemental de hauts fonctionnaires et d'experts pour l'Afrique du Nord. NU. CEA Réunion du Comité intergouvernemental de hauts fonctionnaires et d'experts pour l'Afrique du Nord (1ère: 2022, 1-3 nov.: Marrakech, Maroc). Addis Abeba:. © NU. CEA,. https://hdl.handle.net/10855/49120"

Information society : regional dimensions Africa, Europe & North America, Latin America & Caribbean, Asia & Pacific, Western Asia.

United Nations. Economic Commission for Africa.; United Nations. Economic Commission for Latin America and the Caribbean; United Nations. Economic Commission for Latin America and the Caribbean; United Nations. Economic and Social Commission for Asia and the Pacific; United Nations. Economic and Social Commission for Western Asia

"United Nations. Economic Commission for Africa.; United Nations. Economic Commission for Latin America and the Caribbean; United Nations. Economic Commission for Latin America and the Caribbean; United Nations. Economic and Social Commission for Asia and the Pacific; United Nations. Economic and Social Commission for Western Asia (2003). Information society : regional dimensions Africa, Europe & North America, Latin America & Caribbean, Asia & Pacific, Western Asia.. World Summit on the Information Society (1st : 2003 : Geneva, Switzerland). Geneva :. © UN.ECA. https://hdl.handle.net/10855/41101"

Note conceptuelle: Atelier de partage de connaissances et de partenariat dans le cadre des forums régionaux sur l'évolution probable du climat

Nations Unies. Commission Economique pour l'Afrique; Nations Unies. Commission Economique pour l'Afrique. Division des initiatives spéciales. Centre africain pour les politiques en matière de climat; Nations Unies. Commission Economique pour l'Afrique; Nations Unies. Commission Economique pour l'Afrique. Division des initiatives spéciales. Centre africain pour les politiques en matière de climat

"Nations Unies. Commission Economique pour l'Afrique; Nations Unies. Commission Economique pour l'Afrique. Division des initiatives spéciales. Centre africain pour les politiques en matière de climat; Nations Unies. Commission Economique pour l'Afrique; Nations Unies. Commission Economique pour l'Afrique. Division des initiatives spéciales. Centre africain pour les politiques en matière de climat (2018-05). Note conceptuelle: Atelier de partage de connaissances et de partenariat dans le cadre des forums régionaux sur l'évolution probable du climat. NU. CEA Atelier de partage de connaissances et de partenariat dans le cadre des forums régionaux sur l'évolution probable du climat (2018, 13-14 mai.: Djibouti, Djibouti). Addis Abeba. © NU. CEA. https://hdl.handle.net/10855/24521"