Changing factors affecting fertility decisions in Africa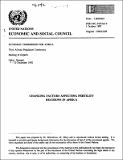 Published
1992-10
Author(s)/Corporate Author (s)
United Nations. Economic and Social Council;
United Nations. Economic Commission for Africa;

Abstract
The unprecedented population growth rate of 3.15 percent currently experienced by sub-Saharan Africa is a consequence of a combination of persistent high levels of fertility and relatively low levels of mortality. While the low levels of mortality are largely attributed to imported medical technology from the west, the high levels of fertility have been explained by the high value placed on children deriving from the organizing socio-economic and cultural constructs of the African tradition - lineage and land tenure. Thus, it has been argued that since children are perceived as beneficial to their parents, and to the extent that they will remain so, fertility will remain high. This high value of children has been linked to lack of development which renders children a security system to parents. Yet Africa, sub- Sahara in particular, has shown little signs of economic development, a basis for pessimism regarding the possibility of significant fertility decline in the near future as expressed by Caldwell et al. (1990); van de Walle et al, (1990); and Bonga arts et al. (1984).
Citation
"United Nations. Economic and Social Council; United Nations. Economic Commission for Africa (1992-10). Changing factors affecting fertility decisions in Africa. UN. ECA African Population Conference (3rd : 1992, Dec. 7 - 10 : Dakar, Senegal ).. Addis Ababa :. © UN. ECA,. https://hdl.handle.net/10855/6166"
Conference
UN. ECA African Population Conference (3rd : 1992, Dec. 7 - 10 : Dakar, Senegal ).