Report of the National Seminar on integrated long-term manpower and employment policy of Nigeria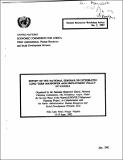 Date
1992-07
Author(s)/Corporate Author (s)
United Nations. Economic Commission for Africa. Public Administration, Human Resources, and Social Development Division;
United Nations. Economic Commission for Africa;

Résumé
The seminar was organized by the national manpower board , national planning commission, the presidency, under the second phase of the NIjeria /UNDP/ILO manpower planning project, in cooperation with the ECA's public administration , human resources and social development division sent Dr Mushibu Nyamazana to act as a resource person and to assist in the servicing of the seminar. The seminar was designed to sensitise human resources policy makers, planners and practitioners to discuss policy measures needed to tackle the worsening unemployment problem in Nigeria. The main objective was to focus on an integrated long – range manpower and employment policy that could guarantee productive employment generation and enhance positive gains from the current structural adjustment programme.
Citation
"United Nations. Economic Commission for Africa. Public Administration, Human Resources, and Social Development Division; United Nations. Economic Commission for Africa (1992-07). Report of the National Seminar on integrated long-term manpower and employment policy of Nigeria. Human resources workshops series; No 2. No 2, 27 p. :. Addis Ababa :. © UN. ECA,. https://hdl.handle.net/10855/6032"
Serial Title
Human resources workshops series No 2
Related items
Showing items related by title, author, creator and subject.
Enregistrement des faits d'état civil en situation de conflit et d'urgence

Nations Unies. Commission Economique pour l'Afrique; Organisation mondiale de la Santé; Commission de l'Union Africaine; Fonds international de secours à l'enfance; Haut-Commissariat des Nations Unies aux droits de l'homme; Fonds des Nations Unies pour la population; Banque africaine de développement; Nations Unies. Commission Economique pour l'Afrique; Organisation mondiale de la Santé; Commission de l'Union Africaine; Fonds international de secours à l'enfance; Haut-Commissariat des Nations Unies aux droits de l'homme; Fonds des Nations Unies pour la population; Banque africaine de développement

"Nations Unies. Commission Economique pour l'Afrique; Organisation mondiale de la Santé; Commission de l'Union Africaine; Fonds international de secours à l'enfance; Haut-Commissariat des Nations Unies aux droits de l'homme; Fonds des Nations Unies pour la population; Banque africaine de développement; Nations Unies. Commission Economique pour l'Afrique; Organisation mondiale de la Santé; Commission de l'Union Africaine; Fonds international de secours à l'enfance; Haut-Commissariat des Nations Unies aux droits de l'homme; Fonds des Nations Unies pour la population; Banque africaine de développement (2017-12). Enregistrement des faits d'état civil en situation de conflit et d'urgence. NU. CEA Conférence des ministres africains chargés de l'enregistrement des faits d'état civil (4ème: 2017, 4-8 déc.: Nouakchott, Mauritanie); NU. CEA Réunion de groupe d'experts (2017, 4-8 déc.: Nouakchott, Mauritanie). Addis Abeba. © NU. CEA. https://hdl.handle.net/10855/24046"

Aperçu de l'évolution récente de la situation économique et sociale en Afrique

United Nations. Economic Commission for Africa. African Institute for Economic Development and Planning(IDEP); Nations Unies. Commission Economique pour l'Afrique; Nations Unies. Conseil Economique et Social; United Nations. Economic Commission for Africa. African Institute for Economic Development and Planning(IDEP); Nations Unies. Commission Economique pour l'Afrique; Nations Unies. Conseil Economique et Social

"United Nations. Economic Commission for Africa. African Institute for Economic Development and Planning(IDEP); Nations Unies. Commission Economique pour l'Afrique; Nations Unies. Conseil Economique et Social; United Nations. Economic Commission for Africa. African Institute for Economic Development and Planning(IDEP); Nations Unies. Commission Economique pour l'Afrique; Nations Unies. Conseil Economique et Social (2018-05). Aperçu de l'évolution récente de la situation économique et sociale en Afrique. NU. CEA Comité d'experts de la Conférence des ministres africains des finances, de la planification et du développement économique (37ème: 11-12 mai, 2018: Addis Abeba, Ethiopie). Addis Abeba:. © NU. CEA,. https://hdl.handle.net/10855/24450"