Intra-African trade: a pillar of development (note by the Joint Secretariat)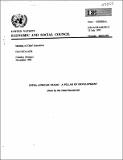 Published
1992-07
Author(s)/Corporate Author (s)
United Nations. Economic and Social Council;
Organization of African Unity;
United Nations. Economic Commission for Africa;
African Development Bank;

Abstract
Intra-African trade in this analysis is defined to mean all those transactions that take place between and among African States, their institutions and individuals within totality of the African region 1/. In a perfectly competitive world economy, the direction of a country's trade would more likely be determined by the laws of supply and demand. Empirical evidence in recent times shows systematic departures from the theorist's dream of a competitive world economy, for instance, growing protectionism in industrial countries against third party exports and from Africa in particular. While nominal tariffs have been considerably lowered in these countries, thanks to the various rounds of General Agreement on Tariffs and Trade (GATT) negotiations, non-tariff barriers on the other hand seem to have gone up markedly. These barriers combine to limit the opportunity of developing countries to increase their exports which in turn creates more difficulties for them to earn the necessary foreign exchange to finance development as well as service their debt.
Citation
"United Nations. Economic and Social Council; Organization of African Unity; United Nations. Economic Commission for Africa; African Development Bank (1992-07). Intra-African trade: a pillar of development (note by the Joint Secretariat). UN. ECA Meeting of Chief Executives OAU/ECA/ADB (1992, Nov. : Conakry, Guinea).. Addis Ababa :. © UN. ECA,. https://hdl.handle.net/10855/6028"
Conference
UN. ECA Meeting of Chief Executives OAU/ECA/ADB (1992, Nov. : Conakry, Guinea).
Related items
Showing items related by title, author, creator and subject.