Report of the Ad hoc committee of government representatives on the impact of Western European economic groupings on African economies: (Addis Ababa, 23-30 January 1961)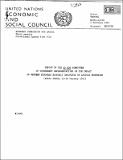 Published
1961-02
Author(s)/Corporate Author (s)
United Nations. Economic Commission for Africa;

Abstract
Under Resolution 7 (il) the Economic Commission for Africa at its second session requested the Executive Secretary to "study and appraise the effects of economic groupings' in Europe on industrialization in Africa, intra-African trade and Africa's economic development in general and to recommend measures necessary to offset any prejudicial effects of such economic groupings (and) to convene an ad hoc committee of representatives of members and associated members" to "examine the above studies prepared by the Executive Secretary on the impact referred to and to' report back to the Commission", This request followed consideration of the subject by the Commission at its second; as well as its first session and "examination of a study on the impact of the European Economic Community on African trade (E/CN.14/29) presented by the Executive Secretary to the second session.
Citation
"United Nations. Economic Commission for Africa (1961-02). Report of the Ad hoc committee of government representatives on the impact of Western European economic groupings on African economies: (Addis Ababa, 23-30 January 1961). NU. CEA (3ème session). Adddis Ababa:. © UN. ECA,. https://hdl.handle.net/10855/6005"
Conference
NU. CEA (3ème session)
Related items
Showing items related by title, author, creator and subject.
Note conceptuelle: Comité intergouvernemental de hauts fonctionnaires et d'experts pour l'Afrique du Nord

Nations Unies. Commission Economique pour l'Afrique; Nations Unies. Commission économique pour l'Afrique. Bureau Sous-Régional pour l'Afrique de l'Ouest; Nations Unies. Commission économique pour l'Afrique. Bureau Sous-Régional pour l'Afrique du Nord

"Nations Unies. Commission Economique pour l'Afrique; Nations Unies. Commission économique pour l'Afrique. Bureau Sous-Régional pour l'Afrique de l'Ouest; Nations Unies. Commission économique pour l'Afrique. Bureau Sous-Régional pour l'Afrique du Nord (2022-08). Note conceptuelle: Comité intergouvernemental de hauts fonctionnaires et d'experts pour l'Afrique du Nord. NU. CEA Réunion du Comité intergouvernemental de hauts fonctionnaires et d'experts pour l'Afrique du Nord (1ère: 2022, 1-3 nov.: Marrakech, Maroc). Addis Abeba:. © NU. CEA,. https://hdl.handle.net/10855/49120"

Information society : regional dimensions Africa, Europe & North America, Latin America & Caribbean, Asia & Pacific, Western Asia.

United Nations. Economic Commission for Africa.; United Nations. Economic Commission for Latin America and the Caribbean; United Nations. Economic Commission for Latin America and the Caribbean; United Nations. Economic and Social Commission for Asia and the Pacific; United Nations. Economic and Social Commission for Western Asia

"United Nations. Economic Commission for Africa.; United Nations. Economic Commission for Latin America and the Caribbean; United Nations. Economic Commission for Latin America and the Caribbean; United Nations. Economic and Social Commission for Asia and the Pacific; United Nations. Economic and Social Commission for Western Asia (2003). Information society : regional dimensions Africa, Europe & North America, Latin America & Caribbean, Asia & Pacific, Western Asia.. World Summit on the Information Society (1st : 2003 : Geneva, Switzerland). Geneva :. © UN.ECA. https://hdl.handle.net/10855/41101"

Note conceptuelle: Atelier de partage de connaissances et de partenariat dans le cadre des forums régionaux sur l'évolution probable du climat

Nations Unies. Commission Economique pour l'Afrique; Nations Unies. Commission Economique pour l'Afrique. Division des initiatives spéciales. Centre africain pour les politiques en matière de climat; Nations Unies. Commission Economique pour l'Afrique; Nations Unies. Commission Economique pour l'Afrique. Division des initiatives spéciales. Centre africain pour les politiques en matière de climat

"Nations Unies. Commission Economique pour l'Afrique; Nations Unies. Commission Economique pour l'Afrique. Division des initiatives spéciales. Centre africain pour les politiques en matière de climat; Nations Unies. Commission Economique pour l'Afrique; Nations Unies. Commission Economique pour l'Afrique. Division des initiatives spéciales. Centre africain pour les politiques en matière de climat (2018-05). Note conceptuelle: Atelier de partage de connaissances et de partenariat dans le cadre des forums régionaux sur l'évolution probable du climat. NU. CEA Atelier de partage de connaissances et de partenariat dans le cadre des forums régionaux sur l'évolution probable du climat (2018, 13-14 mai.: Djibouti, Djibouti). Addis Abeba. © NU. CEA. https://hdl.handle.net/10855/24521"