Summary of current programmes of the United Nations and specialized agencies relating to Africa : prepared by the secretariat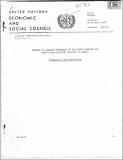 Published
1958-11
Author(s)/Corporate Author (s)
United Nations. Economic and Social Council;
United Nations. Economic Commission for Africa;

Abstract
The paper is organized according to main areas of work, indicating in each area the more important studies, reports and other economic and social activities, including current technical assistance and UNICES programmes. With regard to the specialized agencies, the summary is based on material supplied by the International Labour Organization, the Food and Agriculture Organization, the United Nations Educational, Scientific and Cultural Organization, the World Health Organization the International Bank for Reconstruction and Development, the International Monetary Fund, the International Civil Aviation Organization, the Universal Postal Union, the International Telecommunication Union and the World Meteorological Organization.
Citation
"United Nations. Economic and Social Council; United Nations. Economic Commission for Africa (1958-11). Summary of current programmes of the United Nations and specialized agencies relating to Africa : prepared by the secretariat. UN. ECA (1st session : 1958, Nov. 26 : Addis Ababa, Ethiopia). Addis Ababa :. © UN. ECA,. http://hdl.handle.net/10855/5947"
Conference
UN. ECA (1st session : 1958, Nov. 26 : Addis Ababa, Ethiopia)
Related items
Showing items related by title, author, creator and subject.
Impact of the economic community of West African States common external tariff and European Union Economic Partnership Agreements

United Nations. Economic Commission for Africa; United Nations. Economic Commission for Africa. Subregional Office West Africa (SRO-WA); United Nations. Economic Commission for Africa. Subregional Office West Africa (SRO-WA); United Nations. Economic Commission for Africa; United Nations. Economic Commission for Africa. Subregional Office West Africa (SRO-WA); United Nations. Economic Commission for Africa. Subregional Office West Africa (SRO-WA)

"United Nations. Economic Commission for Africa; United Nations. Economic Commission for Africa. Subregional Office West Africa (SRO-WA); United Nations. Economic Commission for Africa. Subregional Office West Africa (SRO-WA); United Nations. Economic Commission for Africa; United Nations. Economic Commission for Africa. Subregional Office West Africa (SRO-WA); United Nations. Economic Commission for Africa. Subregional Office West Africa (SRO-WA) (2017). Impact of the economic community of West African States common external tariff and European Union Economic Partnership Agreements. Addis Ababa. © UN.ECA. https://repository.uneca.org/handle/10855/43873"

Information society : regional dimensions Africa, Europe & North America, Latin America & Caribbean, Asia & Pacific, Western Asia.

United Nations. Economic Commission for Africa.; United Nations. Economic Commission for Latin America and the Caribbean; United Nations. Economic Commission for Latin America and the Caribbean; United Nations. Economic and Social Commission for Asia and the Pacific; United Nations. Economic and Social Commission for Western Asia

"United Nations. Economic Commission for Africa.; United Nations. Economic Commission for Latin America and the Caribbean; United Nations. Economic Commission for Latin America and the Caribbean; United Nations. Economic and Social Commission for Asia and the Pacific; United Nations. Economic and Social Commission for Western Asia (2003). Information society : regional dimensions Africa, Europe & North America, Latin America & Caribbean, Asia & Pacific, Western Asia.. World Summit on the Information Society (1st : 2003 : Geneva, Switzerland). Geneva :. © UN.ECA. http://hdl.handle.net/10855/41101"

Enregistrement des faits d'état civil en situation de conflit et d'urgence

Nations Unies. Commission Economique pour l'Afrique; Organisation mondiale de la Santé; Commission de l'Union Africaine; Fonds international de secours à l'enfance; Haut-Commissariat des Nations Unies aux droits de l'homme; Fonds des Nations Unies pour la population; Banque africaine de développement; Nations Unies. Commission Economique pour l'Afrique; Organisation mondiale de la Santé; Commission de l'Union Africaine; Fonds international de secours à l'enfance; Haut-Commissariat des Nations Unies aux droits de l'homme; Fonds des Nations Unies pour la population; Banque africaine de développement

"Nations Unies. Commission Economique pour l'Afrique; Organisation mondiale de la Santé; Commission de l'Union Africaine; Fonds international de secours à l'enfance; Haut-Commissariat des Nations Unies aux droits de l'homme; Fonds des Nations Unies pour la population; Banque africaine de développement; Nations Unies. Commission Economique pour l'Afrique; Organisation mondiale de la Santé; Commission de l'Union Africaine; Fonds international de secours à l'enfance; Haut-Commissariat des Nations Unies aux droits de l'homme; Fonds des Nations Unies pour la population; Banque africaine de développement (2017-12). Enregistrement des faits d'état civil en situation de conflit et d'urgence. NU. CEA Conférence des ministres africains chargés de l'enregistrement des faits d'état civil (4ème: 2017, 4-8 déc.: Nouakchott, Mauritanie); NU. CEA Réunion de groupe d'experts (2017, 4-8 déc.: Nouakchott, Mauritanie). Addis Abeba. © NU. CEA. "