The role of industrial estates in policies and programmes for the development of small-scale industries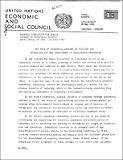 Published
1964-05
Author(s)/Corporate Author (s)
United Nations. Economic and Social Council;
United Nations. Economic Commission for Africa;

Abstract
The coverage of an industrial estate programme is necessarily very narrow. While small industry development has to cover the entire country, industrial estates can be set up only in a few selected locations, and their number will be comparatively small. The role of the Government in sponsoring industrial estates will be limited to establishing a few pilot projects to provide example and incentives to local government's and private groups. Even .after an industrial estate programme gets into full swing, the overwhelming majority of small-scale industries will remain and settle outside the estates. The industries will need assistance other than factory accommodation, and will look up to the Government for support and aid. Thus, the principal requirement is a comprehensive development programme for small-scale industries which should include prevision of factory accommodation through industrial estates as one scheme of assistance among others.
Citation
"United Nations. Economic and Social Council; United Nations. Economic Commission for Africa (1964-05). The role of industrial estates in policies and programmes for the development of small-scale industries. UN. ECA Seminar on Industrial Estates (1964, Jun. 15 - 24 : Addis Ababa, Ethiopia). Addis Ababa :. © UN. ECA,. https://hdl.handle.net/10855/5757"
Conference
UN. ECA Seminar on Industrial Estates (1964, Jun. 15 - 24 : Addis Ababa, Ethiopia)
Related items
Showing items related by title, author, creator and subject.