Economic bulletin for Africa.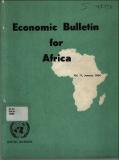 Published
1964
Author(s)/Corporate Author (s)
United Nations. Economic Commission for Africa;

Abstract
This paper focuses on Economic bulletin for Africa and this issue of the economic bulletin for Africa contains a review of current economic developments in Africa and three separate articles on specific subjects.
Serial Title
v. 1-12, no. 1; Jan. 1961-1976.
Related items
Showing items related by title, author, creator and subject.
Draft introduction to the medium term plan beginning 1992

United Nations. Economic and Social Council; United Nations. Economic Commission for Africa

"United Nations. Economic and Social Council; United Nations. Economic Commission for Africa (1989-08). Draft introduction to the medium term plan beginning 1992. UN. ECA Ad Hoc Committee on the Draft Medium-Term Plan, 1992-1997 Meeting. (1989: Oct. 9 - 11 : Addis Ababa, Ethiopia). Addis Ababa. © UN. ECA. https://hdl.handle.net/10855/20747"