Youth and Employment in Africa : paper prepared for the youth employment summit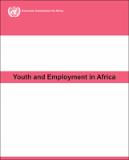 Published
2002-09
Author(s)/Corporate Author (s)
Nwuke, Kasirim;
United Nations. Economic Commission for Africa;

Abstract
Africa's population is very young. Young people make up more than 50% of the population of the countries of Africa, the region that the United Nations Economic Commission for Africa (ECA) serves. These young people are a potential resource for growth and social development if gainfully and productively engaged. But they could also be a source of devastating social tension and conict if not. In many countries, the degree to which youth can\ contribute to the possibilities of their countries in particular and the continent in general is constrained by circumscribed life chances, job opportunities being one of the major circumscriptions.
Citation
"Nwuke, Kasirim; United Nations. Economic Commission for Africa (2002-09). Youth and Employment in Africa : paper prepared for the youth employment summit. ESPD Background paper; no. 1. no. 1, v, 20 p.. Addis Ababa :. © UN. ECA,. http://hdl.handle.net/10855/5603"
Serial Title
ESPD Background paper no. 1
Related items
Showing items related by title, author, creator and subject.
Youth employment and national development in Africa

United Nations. Economic and Social Council; United Nations. Economic Commission for Africa

"United Nations. Economic and Social Council; United Nations. Economic Commission for Africa (1968-04). Youth employment and national development in Africa. UN. ECA Regional on Youth Employment and National Development Meeting (1968, May 21 - 30: Niamey, Niger.). Addis Ababa :. © UN. ECA,. http://hdl.handle.net/10855/18815"

Youth employment programme for Zambia

United Nations. Economic Commission for Africa. Multidisciplinary Regional Advisory Group

"Grey-Johnson, Crispin; Ndongko, Wilfred A.; United Nations. Economic Commission for Africa. Multidisciplinary Regional Advisory Group (1992-07). Youth employment programme for Zambia. Addis Ababa :. © UN. ECA,. http://hdl.handle.net/10855/2452"