Exclure l'Afrique des marches ?: evaluation de l'acces aux marches pour les africains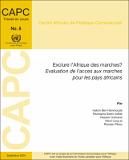 Published
2004-09
Author(s)/Corporate Author (s)
Ben Hammouda, Hakim;
United Nations. Economic Commission for Africa. African Trade Policy Centre;
United Nations. Economic Commission for Africa. Trade and Regional Integration Division;

Abstract
L'objectif de cette étude est, à travers une récente revue de la littérature, de mettre l'accent sur les enjeux et les conséquences du débat sur les formules concernant l'accès aux marchés des produits agricoles et non agricoles pour l'Afrique. Sur la base de la littérature, nous nous fixons comme objectif d'éclairer les négociateurs africains. sur l'impact limité des différentes formules sur leurs économies. Nous chercherons dans cette perspective à avancer des éléments d'explication sur les effets limités des formules proposées. En même temps, nous nous proposons d'identifier les principes et les règles générales qui doivent conduire à la définition de formules d'accès aux marchés capables de prendre en considération les intérêts des pays africains et de faire en sorte que les marchés internationaux soient un véritable complément à leur processus de développement et de diversification des structures de leurs économies.
Citation
"Ben Hammouda, Hakim; United Nations. Economic Commission for Africa. African Trade Policy Centre; United Nations. Economic Commission for Africa. Trade and Regional Integration Division (2004-09). Exclure l'Afrique des marches ?: evaluation de l'acces aux marches pour les africains. ATPC work in progress;; no.8. no.8, v, 98 p.:. Addis Ababa :. © UN. ECA,. https://hdl.handle.net/10855/5596"
Serial Title
ATPC work in progress; no.8
Related items
Showing items related by title, author, creator and subject.