Economic and statistical analyses of trade capacity building in sub-saharan Africa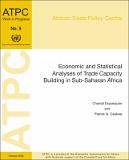 Published
2004-10
Author(s)/Corporate Author (s)
Dupasquier, Chantal;
Osakwe, Patrick N.;
United Nations. Economic Commission for Africa. African Trade Policy Centre;

Abstract
This paper focuses on the Doha decision as it relates to countries in the Sub-Saharan African region. It identifies the capacity problems faced by Sub-Saharan African countries in the multilateral trading system and suggests a simple statistical approach to test the impact of trade capacity building programmes in the region. The statistical test exploits the idea that for donor-financed capacity building programmes to have a sustainable impact in recipient countries, there must be an enabling environment as well as complementary domestic investments. The test is applied to the Sub-Saharan African region using a new database on trade capacity building created by the OECD and the WTO. The results indicate that the main beneficiaries of trade capacity building programmes in the region tend to have more effective government, better regulatory framework, and more exports. However, they also tend to have a less diversified export structure, more political instability, and a higher number of people living with HIV/AIDS.Consequently, the results suggest that political instability and the HIV/AIDS epidemic pose serious risks to the sustainability of trade capacity development in the region.
Citation
"Dupasquier, Chantal; Osakwe, Patrick N.; United Nations. Economic Commission for Africa. African Trade Policy Centre (2004-10). Economic and statistical analyses of trade capacity building in sub-saharan Africa. ATPC work in progress;; no. 9. no. 9, v, 26 p.:. Addis Ababa :. © UN. ECA,. https://hdl.handle.net/10855/5594"
Serial Title
ATPC work in progress; no. 9
Related items
Showing items related by title, author, creator and subject.