Assessing the consequences of the economic partnership agreement on the Rwandan economy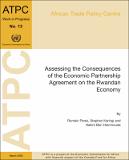 Published
2005-03
Author(s)/Corporate Author (s)
Perez, Romain;
Ben Hammouda, Hakim;
Karingi, Stephen N.;
United Nations. Economic Commission for Africa;
United Nations. Economic Commission for Africa. African Trade Policy Centre;
United Nations. Economic Commission for Africa. Trade and Regional Integration Division;

Abstract
This paper quantifi es the potential economic and welfare impacts of the Economic Partnership Agreement currently being negotiated between the European Union and the ACP countries, on the Rwandan economy. The paper analyses the trade creation and diversion eff ects of Rwanda reciprocating on the trade preferences that it currently enjoys in the European Union market. Three scenarios are considered. The first scenario looks at the implications of full dismantlement of the tariff s that EU exports face in Rwanda. Th e other two scenarios alternately look at opening up of Rwandan agriculture and non agriculture sectors of the economy. The results show that EPAs that have full or substantial reciprocity would reinforce the linkages between Rwanda and European countries, including traditional partners such as Belgium, with implications for the regional integration arrangements that Rwanda is currently involved in. Th ere will be signifi cant trade diversion from other African countries currently trading with Rwanda. Th e results further indicate that the liberalization of industrial sectors in favour of imports from the EU result in more trade eff ects, particularly negative trade diversion, compared to the results from agricultural liberalization. Th e loss in revenue, which is a strong feature in general liberalization, is at the sectoral level, more pronounced in the industrial liberalization. These revenue shortfalls are likely to pose major challenge in the form of adjustment costs associated with tax policy and administration reforms and the required expenditure cuts and reallocations. Clearly, unless they are well structured, instead of fostering economic diversifi cation, the EPA could lead Rwanda to deepen its comparative advantages in agricultural products.
Citation
"Perez, Romain; Ben Hammouda, Hakim; Karingi, Stephen N.; United Nations. Economic Commission for Africa; United Nations. Economic Commission for Africa. African Trade Policy Centre; United Nations. Economic Commission for Africa. Trade and Regional Integration Division (2005-03). Assessing the consequences of the economic partnership agreement on the Rwandan economy. ATPC work in progress;; no. 13. no. 13, xii, 42 p.:. Addis Ababa :. © UN. ECA,. https://hdl.handle.net/10855/5579"
Serial Title
ATPC work in progress; no. 13
Related items
Showing items related by title, author, creator and subject.