Trade preferences and Africa : the state of play and the issues at stake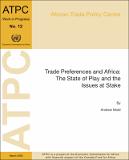 Published
2005-03
Author(s)/Corporate Author (s)
Mold, Andrew;
United Nations. Economic Commission for Africa;
United Nations. Economic Commission for Africa. African Trade Policy Centre;
United Nations. Economic Commission for Africa. Trade and Regional Integration Division;

Abstract
This paper deals with the contemporary situation regarding trade preferences and their implications for African development. It critically reviews the evidence on the effectiveness of the four most important schemes for African development – the Generalized System of Preferences (GSP), the Cotonou Accords, the European Union's Everything but Arms (EBA) agreement and the United States' African Growth and Opportunity Act (AGOA). Although concerns have been expressed regarding particular problems deriving from their conceptualization and implementation, certain African countries and sectors have undoubtedly benefited from these schemes. Moreover, recent research shows that utilization rates are far higher than is commonly supposed. Special and differential treatment has been considered as fundamental to give African countries the 'breathing space' required to be able to compete on international markets.
Citation
"Mold, Andrew; United Nations. Economic Commission for Africa; United Nations. Economic Commission for Africa. African Trade Policy Centre; United Nations. Economic Commission for Africa. Trade and Regional Integration Division (2005-03). Trade preferences and Africa : the state of play and the issues at stake. ATPC work in progress;; no. 12. no. 12, 59 p. :. Addis Ababa :. © UN. ECA,. https://hdl.handle.net/10855/5577"
Serial Title
ATPC work in progress; no. 12
Related items
Showing items related by title, author, creator and subject.