Trade liberalization and development : lessons for Africa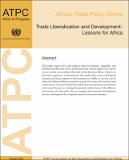 Published
2004-09
Author(s)/Corporate Author (s)
Ben Hammouda, Hakim;
United Nations. Economic Commission for Africa. African Trade Policy Centre;

Abstract
Th is paper argues that trade policies must be dynamic, adaptable, and diff erentiated between sectors and between the various segments of a given sector in order to contribute eff ectively to development eff orts. It draws on the Asian experience to demonstrate that trade policy must avoid giving constant and linear support to the economy as a whole, as was the case in many sub-Saharan African countries. It goes on to reject the restricted and sterile nature of current trade policy debate between openness and control; and instead focuses on seeking the optimal combinations of the diff erent instruments of trade policy that can support the economic development process and improve the competitiveness of national economies.
Citation
"Ben Hammouda, Hakim; United Nations. Economic Commission for Africa. African Trade Policy Centre (2004-09). Trade liberalization and development : lessons for Africa. ATPC work in progress;; no. 6. no. 6, 33 p.. [Addis Ababa] :. © UN. ECA,. https://hdl.handle.net/10855/5549"
Serial Title
ATPC work in progress; no. 6
Related items
Showing items related by title, author, creator and subject.