United Nations Programmes for Technical Assistance in Public Administration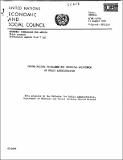 Published
1962-08
Author(s)/Corporate Author (s)
United Nations. Economic and Social Council;
United Nations. Economic Commission for Africa;

Abstract
For the newly independent countries, the question is not merely one' of reorganizing and improving what exists; they have the additional problem of creating new, departments and providing new services to meet expanding demands. While these problems are being tackled the, business of government has to go on. It cannot be suspended until prolonged studies and analyses are completed and the full complement of administrative and technical; personnel required, are recruited and trained. The governments have therefore, to manage as best they ban with the men and means they have and build and, improve on this with the aid of such advice and additional manpower and knowledge as they can get from outside. United Nations programs this field are accordingly designed to make this aid available.
Citation
"United Nations. Economic and Social Council; United Nations. Economic Commission for Africa (1962-08). United Nations Programmes for Technical Assistance in Public Administration. UN. ECA (3rd session : Addis Ababa, Ethiopia). Addis Ababa :. © UN. ECA,. https://hdl.handle.net/10855/5294"
Conference
UN. ECA (3rd session : Addis Ababa, Ethiopia)
Related items
Showing items related by title, author, creator and subject.