Overview of economic and social conditions in Africa in 2008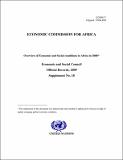 Published
2009
Author(s)/Corporate Author (s)
United Nations. Economic Commission for Africa;

Abstract
Economic performance in Africa declined in 2008 and is projected to slow steeply in 2009. Africa's economic downturn is spurred by the financial turmoil that originated in the USA and affected most countries of the world. For the continent as a whole, despite this decline, fiscal and current account balances have improved and domestic savings and investment rates increased due mainly to high commodity prices in the first half of 2008. However, Africa's average inflation rate rose significantly, threatening macroeconomic stability and food security in many countries. Also, economic performance in Africa, driven mainly by revenues from oil and mineral exports in resource-rich countries, conceals considerable variation across countries and remains insufficient for Africa to meet the MDGs.
Citation
"United Nations. Economic Commission for Africa (2009). Overview of economic and social conditions in Africa in 2008. Official records. Supplement / Economic and Social Council. no. 18, 20 p.:. Addis Ababa :. © UN. ECA,. https://hdl.handle.net/10855/5280"
Serial Title
Official records. Supplement / Economic and Social Council
Related items
Showing items related by title, author, creator and subject.