Annual report 1 March 1976 - 3 March 1977: Economic Commission for Africa.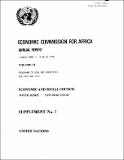 Published
1977
Author(s)/Corporate Author (s)
United Nations. Economic Commission for Africa;

Abstract
The basic assumptions of the work program presented in this document are the need for an increasing measure of economic self-reliance and for the installation, within the countries of the Region individually and collectively, of the components of an autonomous and self-sustaining engine of growth and diversification, capable of being directed to meet one or more of several objectives of socio-economic policy.
Citation
"United Nations. Economic Commission for Africa (1977). Annual report 1 March 1976 - 3 March 1977: Economic Commission for Africa.. Addis Ababa:. © UN. ECA,. https://hdl.handle.net/10855/5207"
Serial Title
Official records. Official records. Supplement no.7/ Economic and Social Council