Draft : aide memoire: training workshop on "Benhancing the role and effective participation of parliamentarians in the African Peer Review Mechanism (APRM) process."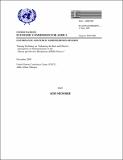 Published
2009-05
Author(s)/Corporate Author (s)
United Nations. Economic Commission for Africa. Governance and Public Administration Division;

Abstract
Considered to be the most innovative and important element of the African Union's NEPAD initiative, the African Peer Review Mechanism (APRM) was launched in March 2003 to address governance challenges facing Africa including systemic political rigidity characterized by executive dominance; political exclusion, especially in the executive and legislature; economic governance; and conflicts-pointing to an urgent need to improve all aspects of governance in the continent. The primary purpose of the APRM is "to foster the adoption of policies, standards and practices that lead to political stability, high economic growth, and sustainable development and accelerated sub regional and continental economic integration." The approach adopted to achieve this objective is through the sharing of experiences and reinforcement of successful best practices, including the identification of capacity deficits.
Citation
"United Nations. Economic Commission for Africa. Governance and Public Administration Division (2009-05). Draft : aide memoire: training workshop on "Benhancing the role and effective participation of parliamentarians in the African Peer Review Mechanism (APRM) process.". UN. ECA Training Workshop on Enhancing the Role and Effective Participation of Parliamentarians in the African Peer Review Mechanism (APRM) Process (2009, Nov. : Addis Ababa, Ethiopia). Addis Ababa :. © UN. ECA,. https://hdl.handle.net/10855/5180"
Conference
UN. ECA Training Workshop on Enhancing the Role and Effective Participation of Parliamentarians in the African Peer Review Mechanism (APRM) Process (2009, Nov. : Addis Ababa, Ethiopia)