Tourism : a viable option for pro-poor growth in Africa ?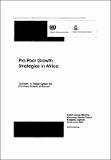 Date
2003-06
Author(s)/Corporate Author (s)
Gerosa, Vittorio;
United Nations. Economic Commission for Africa;
Economic Policy Research Center;

Résumé
Evidence shows that growth alone is not sufficient to stop the marginalization of Africa and to improve the standards of Jiving of its inhabitants. What is necessary for poverty reduction is a strategy of pro-poor growth in which economic growth is combined with reductions in inequality. From the analysis of the tourism industry and through the evidence shown by case studies conducted by various institutions in the last few years, it seems clear that tourism has great potentialities for poverty reduction purposes. This paper aims at presenting a review of the major works undertaken on tourism and poverty in Africa, providing some critiques and suggestions for future progress, in order to sensitize the development community and African governments on the potentialities that tourism may offer for pro-poor growth, if correctly channeled in the right direction. Some data on tourism in developing countries, and specifically in Africa, will be presented to provide a background on the sector in poor countries. Then, the paper will quickly switch to the core of its objectives: determine if tourism is a viable option for pro-poor growth in Africa.
Citation
"Gerosa, Vittorio; United Nations. Economic Commission for Africa; Economic Policy Research Center (2003-06). Tourism : a viable option for pro-poor growth in Africa ?. UN. ECA Expert Group Meeting ( 2003, June 23-24 : Kampala, Uganda). Addis Ababa:. © UN. ECA,. https://hdl.handle.net/10855/5130"
Conférence
UN. ECA Expert Group Meeting ( 2003, June 23-24 : Kampala, Uganda)