Welfare effects of monetary union and flexible exchange rate regimes in the economic community of West African States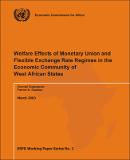 Published
2003-03
Author(s)/Corporate Author (s)
Dupasquier, Chantal;
Osakwe, Patrick N.;
United Nations. Economic Commission for Africa. Economic and Social Policy Division;

Abstract
The quest for improved macroeconomic performance in African countries, coupled with the suc- cessful launching of the euro in 1999, has rekindled interest in the establishment of monetary unions in African Regional Economic Communities. To date, no attempt has been made to quan- tify the welfare consequences of alternative exchange rate regimes in Economic Community of West African States (ECOWAS) subregion within a rigorous theoretical framework that explic- itly captures the crucial trade-off between the savings in transaction costs, resulting from a com- mon currency, and the macroeconomic stabilization benefits of a flexible exchange rate regime. This paper overcomes the limitation. The main result is that a monetary union will dominate a flexible exchange rate regime in the ECOWAS region if transaction costs are greater than 1 per cent of regional Gross Domestic Product (GDP).
Citation
"Dupasquier, Chantal; Osakwe, Patrick N.; United Nations. Economic Commission for Africa. Economic and Social Policy Division (2003-03). Welfare effects of monetary union and flexible exchange rate regimes in the economic community of West African States. ESPD working paper series ;; No.2. No.2, vii, 28 p. :. Addis Ababa :. © UN.ECA,. https://hdl.handle.net/10855/5120"
Serial Title
ESPD working paper series ; No.2
Related items
Showing items related by title, author, creator and subject.
Report of mission to Kampala 7 February-13 February 2005

United Nations. Economic and Social Council; United Nations. Economic Commission for Africa. African Centre for Gender and Development; United Nations. Economic and Social Council; United Nations. Economic Commission for Africa. African Centre for Gender and Development; United Nations. Economic Commission for Africa.

"Tadria, Hilda; United Nations. Economic and Social Council; United Nations. Economic Commission for Africa. African Centre for Gender and Development; United Nations. Economic and Social Council; United Nations. Economic Commission for Africa. African Centre for Gender and Development; United Nations. Economic Commission for Africa. (2005). Report of mission to Kampala 7 February-13 February 2005. Addis Ababa:. © UN. ECA,. https://hdl.handle.net/10855/41484"

Framework for a set of e-government core indicators

United Nations Conference on Trade and Development; United Nations. Economic Commission for Africa.; United Nations. Economic Commission for Latin America and the Caribbean; United Nations. Economic and Social Commission for Asia and the Pacific; United Nations. Economic and Social Commission for Western Asia; Statistical Office of the European Union; International Telecommunication Union; Organisation for Economic Co-operation and Development; United Nations Conference on Trade and Development

"United Nations Conference on Trade and Development; United Nations. Economic Commission for Africa.; United Nations. Economic Commission for Latin America and the Caribbean; United Nations. Economic and Social Commission for Asia and the Pacific; United Nations. Economic and Social Commission for Western Asia; Statistical Office of the European Union; International Telecommunication Union; Organisation for Economic Co-operation and Development; United Nations Conference on Trade and Development (2012). Framework for a set of e-government core indicators. Addis Ababa :. © UN. ECA,. https://hdl.handle.net/10855/25669"

Report of the meeting of the committee on women and development: expert session

United Nations. Economic and Social Council; United Nations. Economic Commission for Africa. African Centre for Gender and Development; United Nations. Economic Commission for Africa. African Centre for Gender and Development; United Nations. Economic and Social Council; United Nations. Economic Commission for Africa.

"United Nations. Economic and Social Council; United Nations. Economic Commission for Africa. African Centre for Gender and Development; United Nations. Economic Commission for Africa. African Centre for Gender and Development; United Nations. Economic and Social Council; United Nations. Economic Commission for Africa. (2005-10). Report of the meeting of the committee on women and development: expert session. UN. ECA Committee on Women and Development Meeting(2005, Oct. 13-14 :Dakar, Senegal). Addis Ababa :. © UN. ECA,. https://hdl.handle.net/10855/25697"