The Information Technology Centre for Africa (ITCA) : business plan for 2001-2002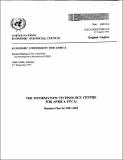 Published
2001-08
Author(s)/Corporate Author (s)
United Nations. Economic and Social Council;
United Nations. Economic Commission for Africa;

Abstract
The concept of ITCA has grown out of the need to wrap a framework around the growing number of mandates and ICT related outreach activities and the opportunity to reach the approximately 18,000 conference participants that pass through ECA's Conference Center (UNCC) to attend over 1500 events annually. As expressed in Figure 1 below, this number is due to expand over the years. The ITCA which is located in the UNCC was initially conceived as a way of delivering demonstrations, exhibits (permanent and rotating) and training about the application of ICT to development management. The intention was to provide these services both to ECA and non-ECA sponsored conferences at the UNCC in the framework of the African Information Society Initiative (AISI) which was adopted in 1996 by the African Ministers in charge of economic and social development and planning. AISI is an action framework to build Africa's information and communication infrastructure. It is a mission statement for Africa's quest to narrow the information technology gap between Africa and the rest of the world, and to speed the continent's entry into the information age. ITCA is a response under the AISI framework. It is mainly focused on enhancing the awareness and commitment of African policy makers in assuming leadership and championing the diffusion and utilization of ICTs to development endeavors in Africa. This will open up significant new markets for ICT products and services throughout Africa, even in the medium term, which will further accelerate the continent's socio-economic development and growth.
Citation
"United Nations. Economic and Social Council; United Nations. Economic Commission for Africa (2001-08). The Information Technology Centre for Africa (ITCA) : business plan for 2001-2002. UN. ECA Committee on Development Information Meeting (2nd : 2001, Sep. 4 - 7 : Addis Ababa, Ethiopia). Addis Ababa :. © UN. ECA,. https://hdl.handle.net/10855/509"
Conference
UN. ECA Committee on Development Information Meeting (2nd : 2001, Sep. 4 - 7 : Addis Ababa, Ethiopia)
Collections
Related items
Showing items related by title, author, creator and subject.