Africa trade and covid-19: the supply chain dimension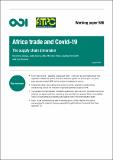 Published
2020-08
Author(s)/Corporate Author (s)
Banga, Karishma;
United Nations. Economic Commission for Africa;
United Nations. Economic Commission for Africa. Regional Integration and Trade Division. African Trade Policy Center;

Abstract
The economic crisis generated by the Covid 19 pandemic is likely to be the deepest since records began. The International Monetary Fund projects a fall in global gross domestic product of 3% and the World Trade Organization (WTO) a drop in trade of between 13% and 32%. In Africa, trade volumes are projected to decrease by 8% for exports and about 16% for imports for 2020, compared with previous historic trend estimates (WTO, 2020a). Managing the pandemic has generated a unique blow to the world economy, simultaneously affecting supply, demand and trade. Supply has been affected directly through the suspension of operation of economic units across multiple activities. This has led to redundancies and suspensions, which have directly affected demand through dampening income expectations. The lockdowns have directly affected many services, such as hospitality and retail services, with a knock-on effect on their domestic and foreign suppliers. The crisis has had strong effects on Africa. The fall in commodity prices constitutes a significant blow to the trade and macroeconomic situation of many African countries that rely on few agricultural and mineral commodities. Meanwhile, the anticipated massive fall in income from tourism is going to hit many other countries that rely on tourism. Trade is also being affected, as Covid 19 is increasing international trade costs through additional inspections, reduced hours of operation, road and border closures and increased transport costs. Moreover, the fall of income in Africa and in other regions is affecting the exports of manufactures.
Citation
"Banga, Karishma; United Nations. Economic Commission for Africa; United Nations. Economic Commission for Africa. Regional Integration and Trade Division. African Trade Policy Center (2020-08). Africa trade and covid-19: the supply chain dimension. Working paper. 586, 52 p.: ill.. Addis Ababa :. © UN. ECA,. https://hdl.handle.net/10855/48444"
Serial Title
Working paper
Related items
Showing items related by title, author, creator and subject.