Increased use of information and communications technology in transport and trade in Africa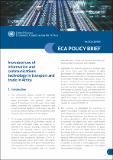 Published
2020
Author(s)/Corporate Author (s)
United Nations. Economic Commission for Africa;
United Nations. Economic Commission for Africa;

Abstract
The coronavirus disease (COVID-19) pandemic has demonstrated the critical need for smart digital technologies and solutions. Given the impact of lockdowns across the world, many public offices, businesses and academic institutions have strengthened their digital and technological capacities to facilitate telecommuting, online transactions, online shopping, online education and telemedicine. To encourage social distancing with a view to limiting the spread of COVID-19, governments around the globe have encouraged online purchasing as an alternative to physical shopping. Digitization affects African countries in different ways, and individual governments require policy space to regulate the digital economy effectively with a view to achieving legitimate public policy objectives. As digital technologies are key to economic recovery and resilience, the African Union and the regional economic communities should take a leading role in promoting digital trade at the continental level.
Citation
"United Nations. Economic Commission for Africa; United Nations. Economic Commission for Africa (2020). Increased use of information and communications technology in transport and trade in Africa. Addis Ababa :. © UN. ECA,. https://hdl.handle.net/10855/48035"
Serial Title
ECA Policy Brief;
Related items
Showing items related by title, author, creator and subject.
Report of the thirty-sixth session of the Intergovernmental Committee of Senior Officials and Experts for North Africa

United Nations. Economic Commission for Africa; United Nations. Economic Commission for Africa. Sub regional office for North Africa; United Nations. Economic Commission for Africa; United Nations. Economic Commission for Africa. Sub regional office for North Africa

"United Nations. Economic Commission for Africa; United Nations. Economic Commission for Africa. Sub regional office for North Africa; United Nations. Economic Commission for Africa; United Nations. Economic Commission for Africa. Sub regional office for North Africa (2021-12). Report of the thirty-sixth session of the Intergovernmental Committee of Senior Officials and Experts for North Africa. UN. ECA Intergovernmental Committee of Senior Officials and Experts for North Africa (36th sessions : 2021, Nov. 24 : Addia Ababa, Ethiopia). Addis Ababa :. © UN. ECA,. https://hdl.handle.net/10855/47917"

Back to office report to participate in the meeting of the COMESA Committee on Industry

United Nations. Economic Commission for Africa. Subregional Office for West Africa; United Nations. Economic Commission for Africa. Subregional Office for Southern Africa; United Nations. Economic Commission for Africa.

"Dhliwayo, M. E.; United Nations. Economic Commission for Africa. Subregional Office for West Africa; United Nations. Economic Commission for Africa. Subregional Office for Southern Africa; United Nations. Economic Commission for Africa. (1998). Back to office report to participate in the meeting of the COMESA Committee on Industry. Addis Ababa :. © UN. ECA,. https://hdl.handle.net/10855/40771"