Fiscal policy for increased revenue generation and financing of sustainable development in Africa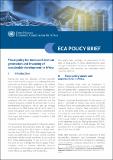 Published
2020
Author(s)/Corporate Author (s)
United Nations. Economic Commission for Africa;
United Nations. Economic Commission for Africa;

Abstract
During the past two decades, African countries have made notable progress in mobilizing domestic resources to finance their endeavors to achieve the Sustainable Development Goals of the United Nations 2030 Agenda for Sustainable Development. Despite the fiscal reforms that many of them have undertaken since 2000, government revenue remains low (21.4 per cent of gross domestic product (GDP)), compared with the continent's potential and the financial resources needed to achieve their national development aspirations. Africa has an average tax revenue to GDP below 16 per cent, which is lower than global norms, but efficient and effective domestic resource mobilization could increase fiscal space and resolve a substantial portion of this financing shortfall. This policy brief provides an assessment of the state of fiscal policy in Africa, identifying key areas through which Governments can strengthen revenue mobilization, and presents the associated policy recommendations.
Citation
"United Nations. Economic Commission for Africa; United Nations. Economic Commission for Africa (2020). Fiscal policy for increased revenue generation and financing of sustainable development in Africa. Addis Ababa. © UN.ECA. https://hdl.handle.net/10855/43950"
Serial Title
ECA policy brief
Related items
Showing items related by title, author, creator and subject.
Report of the thirty-sixth session of the Intergovernmental Committee of Senior Officials and Experts for North Africa

United Nations. Economic Commission for Africa; United Nations. Economic Commission for Africa. Sub regional office for North Africa; United Nations. Economic Commission for Africa; United Nations. Economic Commission for Africa. Sub regional office for North Africa

"United Nations. Economic Commission for Africa; United Nations. Economic Commission for Africa. Sub regional office for North Africa; United Nations. Economic Commission for Africa; United Nations. Economic Commission for Africa. Sub regional office for North Africa (2021-12). Report of the thirty-sixth session of the Intergovernmental Committee of Senior Officials and Experts for North Africa. UN. ECA Intergovernmental Committee of Senior Officials and Experts for North Africa (36th sessions : 2021, Nov. 24 : Addia Ababa, Ethiopia). Addis Ababa :. © UN. ECA,. https://hdl.handle.net/10855/47917"

Back to office report to participate in the meeting of the COMESA Committee on Industry

United Nations. Economic Commission for Africa. Subregional Office for West Africa; United Nations. Economic Commission for Africa. Subregional Office for Southern Africa; United Nations. Economic Commission for Africa.

"Dhliwayo, M. E.; United Nations. Economic Commission for Africa. Subregional Office for West Africa; United Nations. Economic Commission for Africa. Subregional Office for Southern Africa; United Nations. Economic Commission for Africa. (1998). Back to office report to participate in the meeting of the COMESA Committee on Industry. Addis Ababa :. © UN. ECA,. https://hdl.handle.net/10855/40771"